From 1st July to 21st August 2016, a temporary leisure port will once again be set up in Bobigny on the banks of the canal de l'Ourcq. Every weekend, festive activities will take place during the day : guinguettes, dance balls, dancing classes, concerts, DJ sets, shows… and activity workshops for all. There will be food stands, original food and drink trucks (BBQ, street food, a local brewery…) to delight the visitor.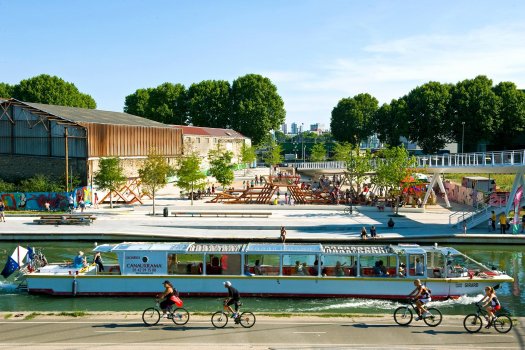 Bobigny leisure port, "Summer on the canal festival 2015" © Xavier Testelin
Summer activities 2016 on the leisure port in Bobigny
To follow all the activites on offer, check out the Facebook page for the leisure port in Bobigny. The leisure port had several spaces : a cultural and catering space, a water park and entertainment area in Parc de la bergère.
1st July 2016
2nd July
Rock concerts with moonsters, Wall Eyed
association in the 93 department for star observation
Network meeting Superville round table discussions
Sound restitution
 
3rd July 2016
World music concerts with Cafetaja Roja, Groove Catchers…
Sambactivist
Batudaka
Round table
 
8th July 2016
Audio-visual concerts (UVB 76, Odey…)
 
9th July 2016
Electro live concerts (Contemporary cabaret, Goayandi)
Lutherie Urbaine
Campus disco network
 
10th July 2016 : Hip-Hop day with the association bunker
graff (graffiti) workshop
Street food
Basketball challenge
 
15th July 2016 : the 93 department is in the spotlight
Music groups and associations in Seine-Saint-Denis (Johnny Montreuil, Batudaka)
Conférence by Patrick Bouchain
 
16th July 2016 : 10 years of Bellastock
10 year anniversary of Bellastock with eclectic and current music concerts
 
17th July 2016
Association Hydropathes concerts
 
23rd July 2016 with Petit bain
Children's day
Giant picnic
 
24th July with Manufacture 111
Hip hop dance show
Dj set
Food truck
Electro live concert with a Mali singer
 
30th and 31st July 2016 with the collective groups "craki et mamies"
A weekend of electro / hip hop / world music
 
7th August 2016 with Manufacture 111
Graff live
Dance show
Dance concert-conference at 8pm
 
13th August 2016
20th August 2016 with Petit bain
Children's day
Giant picnic
 
21st August 2016 : final day of the Summer on the canal festival
Closing dance ball with Soukmachines