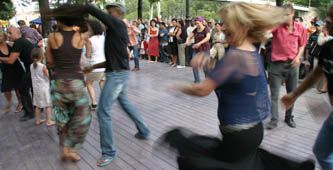 Enjoy "French-Guinguette" open-air dances on the banks of the Canal de L'Ourcq, every weekend from July to August 2019.
Enjoy a special tribute to the "Guinguettes"- these popular drinking, eating and dance venues  located near waterways and Parisian suburbs. Outdoor dancing is a real popular summer attraction on the canal organized during the summer Canal de L'Ourcq festival along its banks on movable wooden dance floors. These open-air dance venues are also often used as restaurants. This is where some Parisians spend their week-ends or a place to go after work.  It is an original way to renew with the "Guinguette" atmosphere and the tavern spirit for drinks and dances: Tango, Rock, Musette and folk as well as Salsa.
Between 500 and 600 people come here every year thus confirming the summer dancing growing success. For three hours a famous musical group strikes the perfect chord and performs highly entertaining songs while the public enjoy dancing. It is a real invitation for experienced dancers and even debutants to try one of the French dances. The public is happy to try, for the first time on this wooden dance floor, some of the lively and popular titles they are all so used to hearing.
Valse, tango, rock and new songs
« Dance ambassadors » (experienced dancers will happily invite you to try out all these dances:  valse-musette, java, swing, tango, rock, circle-dancing through lively electro beats…  A joyful atmosphere brings all ages together - children, adults, teenagers, seniors – to enjoy a complex-free few hours on the dance floor !
Esprit de bal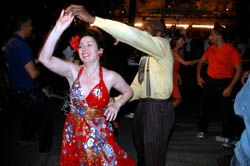 Ask a foreign visitor what Paris means to him or her, it's highly likely that he or she would come up with a picture that would say something to us French too. It's not easily to avoid thinking of accordions and "musette", the sort of music most linked with them. But while we all often associate popular outdoor dancing with Paris, it's there in the countryside too, it's a rural as well as an urban phenomenon.
We have to go back to 1715 to find the first guinguettes, waterside restaurants with dancing, within the city of Paris itself. They then very rapidly, for reasons of taxation, spread out into what were then the outer suburbs, beyond the city walls. People would have something to eat, a glass or two of wine ("guinguet") and of course dance – a tradition that was to last over the centuries. And while such dancing was, and is, essentially for ordinary working people, it still strikes a note even in Versailles or in Paris' Opera quarter and other chic areas. Every different stratum of society has its own kind of dance and they all have an undeniable function in society. Those we know best are the ones our grandparents would tell us about, and the introduction of days off on full pay and paid holidays saw them take off to an unprecedented extent. Films in the 20s and 30s and books too (Francis Carco, Pierre Mac Orlan and others) make much of the ambience of this dancing in the street and small-scale local dances.
Pimps and floozies…
A good number of years have passed since music really made its mark on the shady world of the Paris backstreets, and the old popular dancing scene became a place of intrigue, for the settling of scores over street territory and much more. Picture it for yourself: a world of hefty hard men with tattoos, gigolos, real nasty types... If they seemed to be top of the pile as seducers in the dancehalls it's because they were on the lookout for an easy meal ticket in the form of a good working girl. And who were they after? Dancers, pert young things, flower-girls, young girls lost or love-struck, street singers and the like.
After the war, while the new realism of chansons could still get big tough guys onto their feet, it wasn't long before they started wanting to dance with their chicks to the exciting new music from over the Atlantic. With the Liberation came Swing, which combined with traditional French accordion music to make a new, happy sound. Popular dancing survived the war and though it has changed completely it has done so in order to adapt to new forms of music and new audiences. Not so very long ago, there was lots of dancing going on, in the various districts of Paris, in cafés and in squares, and today dances are still delighting people of all generations. It makes you happy, it's like a dizziness or a fever that creeps up on you… From one dance to the next, every minute is like a promise of sheer bliss.
La Baronne