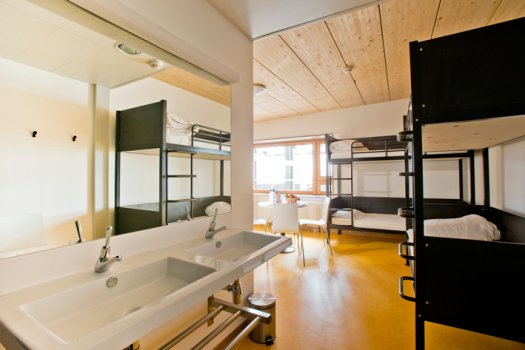 Youth Hostel Yves Robert, occupies a part of Halle Pajol. Located in a former warehouse belonging to the French national transport company-SNCF, the youth hostel with its wooden facades opens onto a unique green space, mixing covered and shared gardens, and ponds with aquatic plants.
The location of this hostel in the 18th district of Paris situated between the Paris-Nord train station and the Montmartre district, makes it an ideal place to stay for visiting the major sites of the capital. It has three hundred and thirty beds and a self-service restaurant of about more than a hundred seats. Rooms are equipped with one, two, three, four, five or six beds.
Located in one of the most representative eco-neighborhoods of Paris in sustainable development, the Yves Robert hostel is a one hundred per cent project on lasting development. Halle Pajol features a large photovoltaic solar station on its rooftop. This BBC building with its positive energy produces more energy than it consumes. The 150m² of thermic solar panels cover most of the domestic needs for hot water in the Hostel. Significant energy saving are achieved thanks to new technologies and technical innovations such as Power pipe system, double flow VMC and the Canadian well. Rainwater is collected for watering the green spaces in the covered garden.