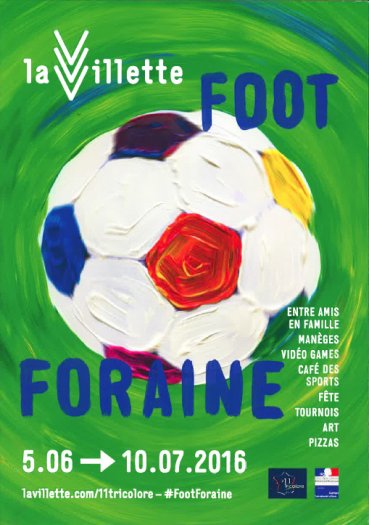 For the Euro 2016, La Villette plays football! La Foot foraine will present cultural and sports activities at Parc de la Villette: live transmission of matches on giant screens, an amusement park with rides and carrousel mixing fun fair and football, a large art gallery on the theme of football in the Grande Halle, funny outdoor football pitches, sport cafés, workshops, activities for young people, etc. This event is co-organized with the cultural centre "friche artistique de Marseille de la Belle de Mai".
Inauguration Foot Foraine: a banquet of pizzas and dance balls
For the opening of foot foraine, on Sunday, June, 5th, 2016, many themes are proposed on the theme of team spirit. A banquet of pizzas cooked up by the celebrity chef Thierry Marx will be awaiting you at midday. Take part in "Bal en rond" at 4:00 pm, a choreography ball by Mourad Merzouki. Learn this team choreography with online tutorials to become ambassador of "bal en rond". Dance to Beethoven's 9th Symphony in line with all the accessories: whistles, inflatable balloons, red and yellow cards.
The exhibition "La Grande Galerie du Foot" will be held in the Grande Halle
This exhibition brings together about forty artworks on the theme of football, artists, painters, sculptors, and photographers from the twenties to today : Andreas Gursky, Wim Delvoye, David LaChapelle, Chris Beas, Kehinde Wiley and Iris Van Dongen and many more. The scenography of the exhibition is inspired by the great gallery of the Louvre to foster dialogue between popular sport and culture.
Installation of Soccer Party Club : football video games
Immerse into the world of football videos games: walk on to a giant virtual football pitch the size of the Grande halle. Kick Off, Super Soccer, Pelé, Football, Tehkan World Cup, Virtua Striker 2, Mario Smash Football Terrain… all these mythical games for a virtual dive into former football games.
Café des Sports
The Petite Halle restaurant will become the Café des Sports: retransmission of matches on the big screen, play babyfoot or foosball games, or just talk football. Café des Sport will propose a special football theme menu "Foot Foraine" with beer/pizza and a specific programme by the DJ.
Festival Foraine
Vintage Carrousels, shooting stand, ice-cream parlour, bubble pool, giant slide, trampolines, labyrinth... La Villette will be transformed into an amusement park, tents…, all ingredients are here to make a mini funfair at the "Fontaine aux Lions", passing through the new space for children called Little Villette. Rides are not free.
Funny football pitches
Special pitches where football rules are reinvented for the occasion: a 3-sided pitch and other quirky ways to play football differently.
Workshop for family at Little Villette
On the occasion of the event Foot Foraine, Little Villette has set out its workshops! You can try your hand at photography or make a football commentary on the radio, or immerse yourself into the world of a digital funfair and be directed by Magic Makers and the collective Mixage Fou…
Baby Balloon 5th to 26th June
Early learning activities with a balloon for toddlers
Make your own baby-foot! June 5th to July 9th
Baby-foot workshop to make a mini baby foot game with crates and recycled materials
Little fans, DIY workshop, from June, 5th to July, 10th
Parents and children become true fans for the Euro 2016 !
Minecraft Coding, from June, 5th to July, 9th
Learn how to develop a javascript programme to change the Minecraft universe into a football pitch and create your own rules of the game.
Lego Coding, from June, 5th to July, 9th
Programming workshop to automate Lego.
Photo foot performances from June, 11th to July, 2nd
Children can imitate their favorite footballers here for a fun photo shoot.
Several events around football will be scheduled during the European football cup 2016. Where to sleep close to La Villette, visit the dedicated pages.