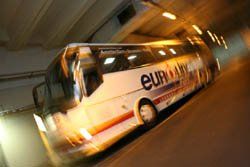 Paris-Gallieni international bus station is located in Bagnolet in the east of Paris. This major bus station is one of the most important stations for European coaches. This bus station was created in 1993 under Bel Est Gallieni mall. Paris-Gallieni international bus station is composed of two levels covering over more than 6,000 sq.m².
Definitive closure of Bagnolet Bus Station
03/08/2021: Eurolines, a subsidiary of FlixBus, was officially placed in receivership on 20 July 2020. This acts the closure of one of the largest bus stations: Bagnolet station.
Boarding and parking at the international station :
The reception offices are on the first floor for all passenger registration formalities, ticket sales for the coach Eurolines and any other information.. The second floor is reserved for parking of all vehicles, taxis and the arrival and departures of all passengers.
There are no automatic or manually-operated left-luggage lockers at the bus station (if necessary you can get information at one of the SNCF information offices to leave your luggage in a left luggage storage in one of the SNCF train stations - Check Gare du Nords's left luggage storage service or go and find information at Gare de l'Est ). There aren't any warm places to stay here (café, restaurant...), only boarding platforms.
Access to the international bus station :
The bus station is open every day of the year from 6 a.m. to 11 p.m. Its location is ideally situated for easy access to Paris and easy also to get to by car. The bus station is based at one of the exit points of the outer ring road of Paris (Porte de Bagnolet) at the level of an important motorway interchange between the ring road and the junction leading to the A3 highway. The Bel Est mall and the bus station of Paris-Gallieni are one – you can't miss it!
Metro and bus from the international bus station Paris-Bagnolet :
The bus station is served by Gallieni station (line 3) and by several bus lines on the Parisian public transport network of the region of Ile-de-France:
line 122: Bagnolet Gallieni <--> Val de Fontenay
line 221: Gagny <--> Pointe de Gournay
line 318: Château de Vincennes <--> Pantin-Raymond Queneau
line 351: Paris Nation <-->Roissypole (Charles de Gaulle airport, terminal and station)
To get to Charles de Gaulle airport from the bus station Gallieni take metro line 3 to République station. And then change and take metro line 5 to Gare du Nord station. Take RER line B in direction of CDG airport.
You can also find the tramway T3B 10 min from where you are at the station porte de Bagnolet.
Hotels near Gallieni Paris-Bagnolet
To find accommodation located not far from Paris - Gallieni, browse through the list of hotels near the Porte de Bagnolet. Check our presentation of Bagnolet's neighbourhood to know a bit more about where you're planning to stay.