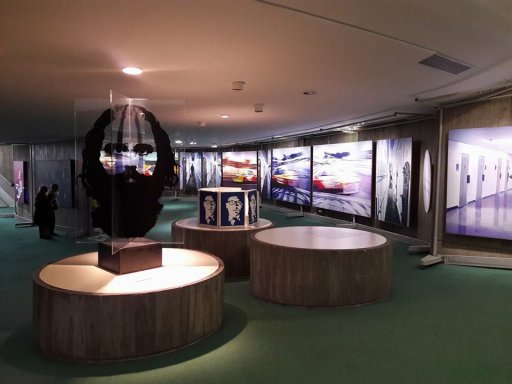 Musée de La Poste presently undergoing renovation proposes a retrospective view on Bernard Rancillac, an important contemporary artist. This exhibition at the venue Oscar Niemeyer in the heart of the 19th arrondissement shows the whole work of the career of Bernard, an artist on narrative figuration.
Concerts, conferences, guided visits around Rancillac
Jazz Concert carte Blanche Steve Shehan and Sunshine Quintet on Wednesday, April, 19th at 8 pm in the auditorium. Round Table Conference on the theme of Narrative Figuration , Tuesday, May, 23rd at 7 pm. Free Guided visits of the exhibition Rancillac at the venue Espace Niemeyer are proposed on inscription by mail or at 01 42 79 24 24 :
Saturday, February, 25th at 3 pm.
Sunday, March, 12th at 3 pm.
Saturday, 25th at 3th pm.
Sunday, April, 9th at 3 pm.
Saturday, April, 22th at 3 pm.
Saturday, Mai, 6th at 3 pm.
Sunday, Mai, 21st at 3 pm.
Saturday, June, 3rd at 3 pm.
Retrospective Rancillac : useful information
The exhibition is open from Monday to Friday from 11am. To 6 pm. Weekend from 1 pm. to 6 pm. (closed on public holidays).
You will find a children's booklet of games for kids from 7 years old on sale at reception, packs of postcards and the catalogue of the exhibition , works on Rancillac and the Rancillac stamp collection.
Discover restaurants in the 19th district and walks to do around Canal saint-Martin, close by. You can also opt to couple your visit with the headquaters of the PCF and a free visit of the Bourse du travail to discover the work of the architecte Oscar Niemeyer.
You can also discover the second part of the retrospective of Rancillac at Saint-Arnoult-en-Yvelines.