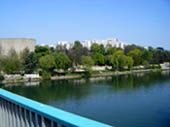 The association Accueil Banlieues is made up of Seine-Saint-Denis locals who love their territory and who have decided to welcome into their home visitors on short trips to Ile de France. It is a simple concept that combines meeting people and promoting suburban towns. Inspired by the concept "Accueil Paysans", members of the association Accueil Banlieues want to promote their town with other suburban towns and people and at the same time change the image and pre-conceived idea people have of this area.
Welcoming Tourists
For 15 euros per night, locals offer a room in their house or apartment with shared bathroom. Beddings, towels and breakfast are included in the price. Each member of the association walk the visitor through its town while telling stories, anecdotes and giving outing tips.
Wherever you stay, may it be with Mathieu and Marie-Pierre, Muriel, Catherine, Sandrine and Michaël, Laurent or Valérie and Jean-Jacques, you will always discover a different environment.  There are 45 accommodation available in Seine-saint-Denis: Aubervilliers, Epinay-sur-Seine, Saint-Denis, Ile-Saint-Denis, La Courneuve... most of the host-members in this network accompany their guests on walking tours or direct them towards other guides who can show them the amazing offers and attractions that the suburbs have to offer.
For more information or to discover accommodation availability contact the Accueil Banlieues team who will be happy to help you.
Address
Accueil Banlieues
10, rue Henri-Poincaré
93800 Epinay-sur-Seine
Tél. : 06 31 02 28 94
Email : accueilbanlieues@dartybox.com