One week-end per month from June to September, the beach 6b in Paris Saint-Denis livens up the banks of canal Saint-Denis ! 6b proposes many activities most of which are free. The beach 6b is 3,000m² of open air space covered in sand.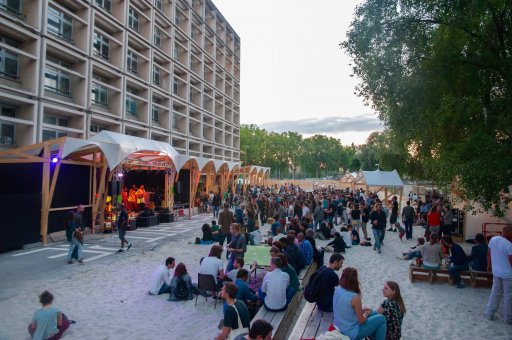 © CyberCeb
This relaxation area boasts deck-chairs and parasols, a mini-golf and a badminton court and creative workshops. It is possible to eat and drink : some vegetarian stands, lemonade, home-made iced-tea, organic fruit juices, Demory home-made beers and natural wine. Concerts and dj sets (house, funk, jazz, world music, techno…).
The green spaces around are turned into a temporary public garden open to all : inhabitants, and other active players in the local cultural and political life, artists, visitors… it is the call to come together, around values such as discussion, culture, art and ecology, in a festive and unusual environment. You will be surprised by its immense structure in wood, its dance floors, its giant sand pit, its guinguette…
Most activities are free and open to all : workshops, discussions and debates, afternoons in the garden, sport, games and tournaments, cinema, living art, music, etc.
Just a couple of steps from Paris, drop by as a tourist and let yourself be carried away in the holiday mood that surrounds this place.
2019 on the beach at 6b
Apéro Cibo
Every thursday of the month of July, you can taste the delicious tapas apéro at the restaurant of the 6b.
Concert and conference Somos Guerreras
A concert of 3 female rap artists of Centrale America - the group Somos Guerreras + Conference about feminism and Hip-Hop in Latine America today (in French)
July 19h: 7 pm to 1 am - 8¤ / reduced price: 5¤
Cosmos Bass
Afro-beat, house, bass, trap music + afro-dance workshop + photo exhibition "Black Ink Stories" + Barbecue and Caribbean coktails
Free before 7 pm then 8¤ or 5¤ in presale (+ workshop: 5¤)
Summer mood festival
The Summer Mood festival is dedicated to experimental electro dance
Friday 23rd August
Dance workshop from 10 am to 12 am for beginners and from 2:30 pm to 7 pm for experimented dancers. 15¤/lesson, 10¤ for under 12yo, 30¤/3 lessons and -50% for inhabitants of Saint-Denis.
Free conference on the evolution of electro dance worldwide from 7 pm to 9 pm.
Barbecue from 9 pm to 11:30 pm
Saturday 24th August
Prelims from 2 pm to 6 pm (5¤/ categories)
Barbecue from 6 pm to 10 pm
Mood Funky Party from 10 pm to 1 am (5¤)
Sunday 25th August
Mood cruise from Paris Stalingrad to the 6b from 12 am to 2:30 pm (15¤)
Dance battle from 3 pm to 8 pm (10¤ for spectators)
Information on 6b
6B in a few words
6b is a place of creation and an independent pluridisciplinary distribution venue that opened its doors in 2010 in Saint-Denis. 6b covers 5,000m² of workshop space, more than 150 residence members and 1,000m² of common room space (cafeterias, exhibition halls, dance halls, concert halls, cinema etc.) Its gardens lie on the water's edge where the Seine and canal Saint-Denis meet. All sorts of people meet up here and add new life to the banks of the canal.
How to get to 6b
Le 6B
6/10 quai de Seine Saint-Denis
93200 SAINT-DENIS

RER : D, Saint-Denis Gare
Metro : Ligne 13, Saint-Denis Basilique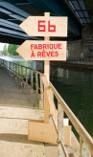 Why not go there on your bike – a 30 minute cycle along the banks leaving from bassin de la Villette. Or 10 minutes on foot from the RER D station, just follow the arrow… the « Fabrique à rêves is accessible to all !