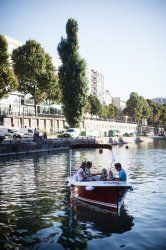 Captain your own electric boat! Experience a new unique type of boating holiday in Paris!  Small electric powered canal boats are available for hire at Bassin de la Villette. Perfect for a silent greener electric-canal-boat cruise on Canal de L'Ourcq to enjoy its rich heritage, breathtaking scenery and snacks and bars along the canal. Self-drive hire boat enthusiasts will be delighted to cruise these "without a boat-driving license" on the waterways of North-East Paris.
Electric Canal boat best rental deals
Different renting rates and options are available! Of course, electric boat best deals availability is based on the indicative travel times. From one hour, two or three hours, cruise between the choice of 3 types of easy-to-drive boats which seat up to 5, 7 or 11 passengers.
All the electric boats are quiet and environmentally friendly, so cruise the canal and be at peace with your surroundings covering the 40 mile waterways and simply enjoy!
Marin d'Eau Douce Company offers a comprehensive briefing to make sure electric boater enthusiasts are guaranteed with technical tips and advice on boat maintenance. Hook-up points, locks locations and mooring facilities for the boat as well as Parisian waterways security rules are provided to ensure your security and boating pleasure.
Canal boat rates !
5 seated person electric-boats: 40¤ per hour, 70¤ for 2 hours and 90¤ for 3 hours
7 seated person electric-boats: 50¤ per hour, 90¤ for 2 hours and 120¤ for 3 hours
11 seated person electric-boats: 70¤ per hour, 120¤ for 2 hours and 160¤ for 3 hours
Boat rental Booking: 06 52 05 13 27
Marin d'Eau Douce
37 Quai de la Seine
75019 Paris
Access : Stalingrad Station (métro 5 ou 2), or Riquet Station (métro 7)
For more information, click on Marin d'Eau Douce