Cruises in North-Eastern Paris

Step aboard the cruise boats of Paris Canal and Canauxrama and discover the riches of North-Eastern Paris. Take a trip along the Canal de l'Ourcq, the Canal Saint-Martin or the Canal Saint-Denis to visit attractions such as the Basilica of Saint-Denis, the Stade de France, La Villette or the Grands Moulins in Pantin.
Spend a couple of hours, or a full day, discovering the sights of North-Eastern Paris along its canals.
---
Visits Tours & Encounters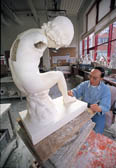 Companies in Seine-Saint-Denis create, invent, innovate and apply a wide range of different skills. They open their doors to visitors during the Et voilà le travail! event, with tours of almost 100 premises concerned with industry, art and heritage, food processing, imaging, the media and the performing arts, graphic design, transport and logistics, the environment, health, research and more.

The Douce Banlieue programme of town trails is an opportunity not to be missed to see Seine-Saint-Denis as it really is, "hard-living and gentle-hearted", and discover its history, its buildings and the people who give it life.
---
Courses with artisans and artists
On your weekends and leisure time in North-Eastern Paris, experience and share in the work, the passions and the way of life of artists and artisans. From an introduction to modelling techniques to preparing and producing great chocolates or designing and adding personal touches to objects in wood, large numbers of professional tradesmen and designers offer courses throughout the year, showing you, in their places of work, their passion for what they do.