Visit Paris off the beaten track : unusual tours and sights
Unusual sights in paris and off the beaten path tours
Welcome to our city guide to Paris, France. Find things to do in Paris region, days out in Paris area, Paris attractions and sightseeing, what's on, Paris 2017 events (don't miss out the last exhibitions), theatre, tours, restaurants and hotels. Plan your trip to Paris with useful traveller information and tips about places to go off the beaten track.
Accomodation
With thousands of hotel rooms, Paris boasts one of Europe's densest concentration of hotels.
Consult the list of tourist-class hotels in North-East Paris.
City break
Whether you're looking for the best weekend breaks or planning a longer holiday in Paris area, you can be sure you'll find all the information you need.
Seine-Saint-Denis
Make sure to discover diverse neighbourhoods and suburbs.
More Paris Trip Ideas
Planning your Paris trip and want to discover the City of Light off the beaten path ? We have hundred of pages dedicated to travel and to cool, weird things to do. Whether you're looking for unusual things to do in Paris such as events and attractions, key traveller information to make your Paris visit run smoothly or are planning where to stay in Paris, you'll find plenty of tips and information on our website.
Shoah memorial and WW2
Visit the Shoah memorial in Drancy in the North East of Paris located in front of Cité de la Muette social housing complex known as the Drancy Camp. Check out our list of commemorative sites of internment and deportation.
Cité du Cinéma - Luc Besson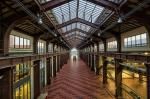 Visit the backstage of La Cité du Cinema, the recent film studio complex created by the French film maker and director Luc Besson. Find your hotel near the Cité du Cinema / Access, subway.