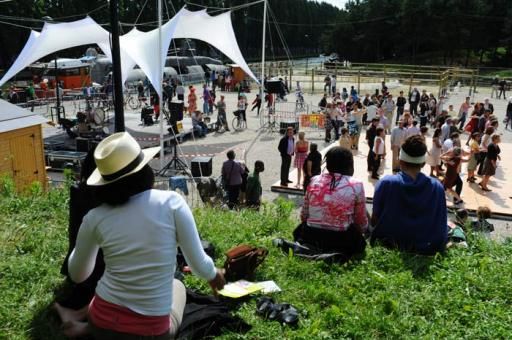 You are in Paris or close suburbs and you are looking for things to do in August 2017? Cinema, exhibitions, concerts, sports, relaxation... Canal de l'Ourcq in summer offers a multitude of rich events, for all tastes and ages. Here are some suggestions and ideas : enjoy summer at a budget friendly cost or for nothing!
Best deals for the month of August 2017 in Paris and Ile-de-France
Outdoor Cinema along the banks of the canal
Outdoor Cinema at Parc de la Villette: Outdoor Cinema will once again take overs the Prairie du Triangle at Parc de la Villette, from July, 12th to August, 20th, 2017. Cooking is the theme of the new edition of outdoor Cinema at La Villette, which has not aged one bit! For more useful information: Browse through the programme on outdoor cinema Paris La Villette
Paris Plages at Bassin de la Villette
Paris Plages 2017 will be on from 8th July until 3rd September 2017. Rendezvous at Bassin de la Villette (Paris -19th) for fun and festivities during the Paris holidays. All activities at Paris Plage Bassin de la Villette are free or just about. Enjoyable moments at Paris Plage, early morning or early evening! Try the brand new Paris outdoor swimming zones in the Bassin de la Villette.
Concerts on the banks of the Canal
La Plage du Glazart
All summer long, make the most of this unique and temporary music venue: an atypical oasis welcomes you in the heart of the city: La Plage 2.0 at Glazart. This open air rendezvous boasts an eclectic quality programme from Monday to Sunday. Headliners, first gig, discoveries and DJs will perform from Wednesday to Sunday on stage, concerts, DJ sets, atypical crews... Many concerts are free. Entertainment every day for all ages !
Concerts, activities in August in Pantin at Paris
Free, at Mail Charles de Gaulle, Eglise de Pantin metro station

Free dance balls, where to dance in August 2017 close to Paris ?
The dance balls are free
Sail on a boat under the sun in August
For 1 or 2 euros enjoy a cruise on the canal ! Shuttles are set up during été du canal festival in July and August. Boats will navigate on Canal de l'Ourcq from Bassin de la Villette in Paris to Bobigny. Yea really, for 1 euro per trip on Saturday and 2 euros on Sunday (for over 10 years old) it is possible to enjoy a water trip for a few bucks (free for children under 10 years old). Do not miss also brunch cruises, gourmets' workshop or electro each week-end in August. Embark at Bassin de la Villette in Paris. More on summer cruises in Paris.
Exhibitions and shows
Outdoor exhibitions This summer 2017 and until the end of August, urban artists will be present on the banks of Canal de Saint-Denis. A promenade to enjoy along the banks of the canal in the month of August!
Feeling peckish, want to find a restaurant close to the Paris Canal?
Before or after the joys of your visits or free shows, you're feeling peckish, the kids are starving… We have selected some restaurants close to Canal de l'Ourcq, at Bassin de la Villette, Pantin... You can also opt for a picnic on the banks of Canal de l'Ourcq, the month of August is generally suitable for relaxation and sunbathing.
Are you staying in the region of Paris in the month of July? Discover what to do in Paris in the month of July?