Beside its traditional "bateaux mouche" on the Seine, many other boat trips and tours of Paris are offered throughout the year.
Board on a boat roaming through Parisian canals and rivers for an unforgettable stroll along the waterside. Pick your vehicle : pilot a small canoe, let yourself be guided during a cruise or enjoy water activities.
Cruising in Paris
Visit the Grand Paris region on a boat with cruises on the canal Saint-Martin, the Seine, the canal de l'Ourcq and the canal Saint-Denis.
Hop on a cruise on the Seine to discover Paris in an unusual way: during a cruise between the canal Saint-Martin and the Seine or during a real Parisian guinguette cruise. 
You can also navigate by boat on the canal de l'Ourcq and Saint-Denis. Departing from Paris at the Bassin de la Villette to admire the landscape of the north east of Paris during different thematic cruises: 200 years of history around these canals, the industrial heritage or street art..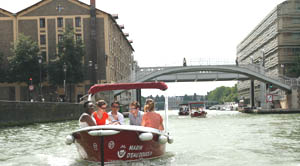 Renting a boat without a license 
You can drive a boat in Paris without having boating licence. Since 2014, Marin d'Eau Douce rent small electric boats to navigate quietly on the bassin de La Villette and venture on the canal de l'Ourcq. An original way to visit the different districts of Paris and its region by the water in small groups! Ideal to share a festive moment with colleagues, friends and family including children. 
Festivals by the water in Île-de-France
 Several highlights around fluvial tourism are held in Île-de-France. 
Every Saturday and Sunday during the summer, the canal de l'Ourcq is brought to life with multiple activities by the water with Paris Plage and the numerous activities of l'Été du Canal which take place at the bassin de la Villette and the canal Saint-Denis. Cruises, free concerts on the water and cheap shuttles on the canal de l'Ourcq are some of the many activities you can take part in.
Mercredi j'ai bateau invites you to discover the region Île-de-France during cruises on the Marne and the Parisian canals.
Cap sur la Marne organizes events and activities on the Marne and its banks: nautical activities, cruises, cycling and walking tours..
Nautical activities in Paris 
It is possible to practice water sports in Paris: canoeing, paddling, rowing, zodiac... All year round, the water sports centres and clubs of Ile-de-France welcome you to the Bassin de La Villette, the Ourcq canal, the Marne and the Seine.
In summer, families can do water-based activities on the beaches and water sports areas along the canals with games and activities for all, such as pedal boats and electric boats.