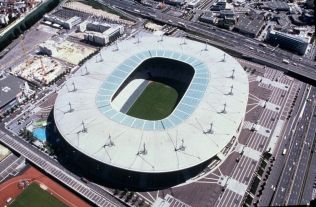 Designed by 4 architects, Michel Macary, Aymeric Zubléna, Michel Regembla et Claude Costantini, the Stade de France is considered to be the stadium of the third millennium. It boasts 80,000 sheltered seating and is equipped with exceptional facilities : restaurants open for lunch everyday of the week, reception areas, conference and exhibition space, VIP boxes with private terrace, privatization restaurant… Football (Euro 2016, french cup, french league cup...), rugby, opera, shows, motor sports, concerts… the diversity and quality of the events organised at the Stade de France goes without saying. It is interesting to note that due to its technology, its attractive design and practical aspect, the stadium opens its doors (outside of event days) to both lovers of architecture and sport.
A unique experience ! "In the heart of the stadium"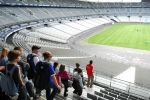 Visitors are invited to stroll through the museum, to relive the finest moments of the Stade de France : its construction, events and daily life. A guide then invites them to see the other side of the coin : in the path of their idols, they will let themselves be charmed by the magic of those not-to-be-missed places still soaked in emotion : the side of the pitch, the dressing rooms, the VIP stand…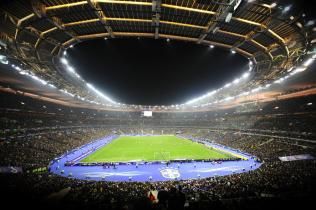 Interactive events are proposed in and around the stadium thus transforming the site into a real leisure land accessible to all. Every summer, the mythical pitch of the Stade de France is turned into a beach and in wintertime, a winter ski resort.
Every year, the most important sporting events take place : the 6 nations rugby tournament, football finals, athletics meetings….
Stade de France: opening hours
(except during sporting or other events) A unique experience "Au Coeur du Stade"
April to August : daily and on the hour between 10am and 5pm. English-language tours in high season at 10.30am and 2.30pm including access to the museum exhibition area.

September to march : starting at 10.30am, 12pm and 4pm Monday to Friday, extra visit at 3.30pm at weekends, bank holidays and school holidays.
Duration of tour : 1 hour
Information
www.stadefrance.com
Tel. +33 (0) 892 700 900 (0,34 ¤/min)
How to get there
Métro (ligne/line 13) station : Saint-Denis Porte de Paris
RER (ligne B/line B) station : La Plaine stade de France
How to go to the Stade de France
---
©Stade de France® - Macary, Zublena et Regembal, Costantini – Architectes, ADAGP – Paris 2012 - Photos ; F.Aguilhon - APF/F.Foucha