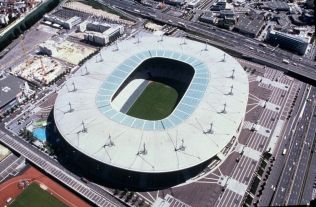 Designed by 4 architects, Michel Macary, Aymeric Zubléna, Michel Regembla et Claude Costantini, the Stade de France is considered to be the stadium of the third millennium. It boasts 80,000 sheltered seating and is equipped with exceptional facilities: restaurants open for lunch everyday of the week, reception areas, conference and exhibition space, VIP boxes with private terrace, gourmet restaurant… Football (Euro 2016, French cup, French league cup...), rugby, opera, shows, motor sports, concerts… the diversity and quality of the events organised at the Stade de France goes without saying. It is interesting to note that due to its technology, its attractive design and practical aspect, the stadium opens its doors (outside of event days) to both lovers of architecture and sport.
A unique experience: "In the heart of the stadium"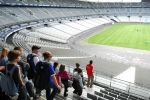 Visitors are invited to stroll through the museum, to experience again the finest moments of the Stade de France: its construction, events and daily life. A guide then invites them to see the other side of the coin: in the path of their idols, they will let themselves be charmed by the magic of those not-to-be-missed places still soaked in emotion: the side of the pitch, the dressing rooms, the VIP stand…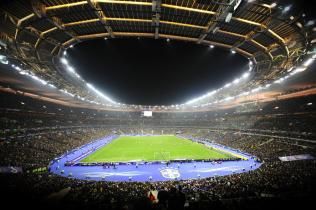 Interactive events are offered in and around the stadium thus transforming the site into a real leisure land accessible to all. Each summer, the mythical pitch of the Stade de France is turned into a beach and in wintertime, a winter ski resort.
Each year, the most important sporting events take place there: the 6 nations rugby tournament, football finals, athletics meetings…These events are the best guarantee for an intense moment to share with your family. Check out other activities.
In 2023, the Stade de France will host the Rugby World Cup with eight other stadiums in France. In 2024, the Paris Olympic Games will be held at the stadium as well. And if you are looking for an event in the following months, check out the Six Nations Tournament matches which take place at the beginning of each year.
---
©Stade de France® - Macary, Zublena et Regembal, Costantini – Architectes, ADAGP – Paris 2012 - Photos ; F.Aguilhon - APF/F.Foucha