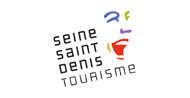 Created in 1998 by Departemental Council, Seine-Saint-Denis Tourism is responsible for the development and promotion of  tourism, leisure activities and events throughout the department more specifically the North-East of Paris. Seine-Saint-Denis Tourism leads its missions alongside a network of professional, associative and institutional partners. It strives, in particular, to promote sites and events for both the general public and professionals. It is continuously working on the emergence of new forms of tourism and organizes visits all year long.
From this territory has emerged internationally renowned sites, whether it be for business event locations or leisure trips :
Various museums enhance the territory to promote tourism development including the History and Art museum Saint-Denis, Shoah Memorial at Drancy.
Music, dance and theater showcase young talents, famous artists and international events in renowned places.
Music festivals – (Saint Denis Festival, Banlieue Bleues, Jazz at La Villette, Africolor); Film festivals, dance festivals including the Choreographic International Encounters Festival in Seine-Saint-Denis and some major events such as the Paris Air Show-the international aeronautics Air Show at Le Bourget, the Global Antiquity market, The youth and press book fair and many sporting events are open to the public.
It is also in this territory that are organized the biggest sporting events: FIFA World cup 1998, World athletics Championships in 2003, Rugby World cup in 2007, Six Nations Tournaments, Euro 2016 (football)...
Seine-Saint-Denis was severely hit by the industrial crisis - the territory has today rebuilt a strong and vibrant economic hub where companies somewhat concerned by the image of their territory are pleased to open their doors to the public. Seine-saint-Denis Tourism organizes the following visits for all public: industrial and company visits generally closed to the public about the experience and know-how of a company, industrial sites, laboratories and workshops…  
The Seine-Saint-Denis Tourism in partnership with tourist offices and various associations has even launched an Urban walking tour program through Seine-Saint-Denis.
Seine-Saint-Denis is also the territory where canals and rivers, parks and nature, fauna and flora find their place naturally in the midst of the towns. Seine-Saint-Denis Tourism offers outings for families most of the year - boat rides and birds-watching walking tours in most of the county parks in partnership with LPO and CORIF companies.