In charge of turning the great abattoir sales hall into a museum of science and technology, in 1981 the architect Adrien Fainsilber decided to open this building to light, a "source of energy of the living world"… Through the development of science and technology, La Cité des Sciences et de l'Industrie provides the necessary learning tools to better understand the world in constant change around us. Each exhibition space is open to all age groups, from junior to senior, from tourists to professionals/researchers or to the simply curious ones…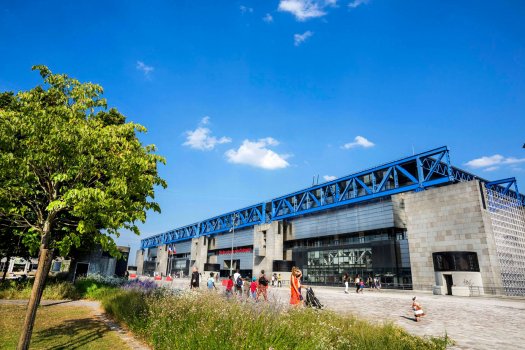 Photo ©Ph Levy-EPPDCSI
The biggest science museum in Europe
The exhibition halls: covering an area of 20,000 m2, both temporary and permanent exhibitions are organised around the major themes of science, technology and industry. They are supported by small-scale models, audiovisuals, interactive options and activity programs. The center also offers floor and room space for meetings, conventions and conferences open to journalists, researchers, participants and the general public. The Cité des Enfants and the children's media library are designed to initiate children to the world of science and technology, to reply to their questions, to stimulate their curiosity and awareness, their desire to read and do research.
Cité des enfants - 2 Junior areas - 2 to 12
The 'Cité des Enfants' is included in the the Cité des Sciences et de l'Industrie (La Villette - Paris 19th) and is separated in 2 areas: Junior Space from 2-7 year old children and Junior Space from 5-12 year old children. It is a discovery area which help the youngers understand sciences and technologies. Check our other numerous activities with children.
The Argonaute submarine
Flagship of the French navy in the 50's, the submarine Argonaute has already been around the world ten times! In 1989, the 400-ton craft undertook its final voyage and set up berth beside the Géode, canal de l'Ourcq, Cité des sciences et de l'industrie a focus of admiration and curiosity for all.
Vill'Up
Vill'Up is open every day including Sunday. Restaurants and several movie theaters (Ciné Pathé-Gaumont Villette) welcome you every day. This center will close its doors for major work in early 2022 for a reopening in 2023.
Opening hours
Every day except Mondays, from 10 a.m. to 6 p.m. (7 p.m. on Sundays)  
The Cité des Sciences is closed on January 1st, May 1st and December 25th.
Information
www.cite-sciences.fr/en Tel. : + 33 01 85 53 99 74
How to get there
Subway - Line 7 / Porte de la Villette station