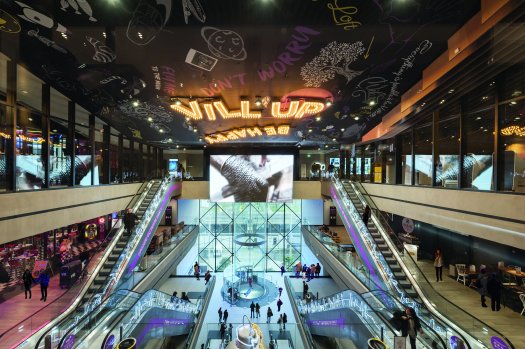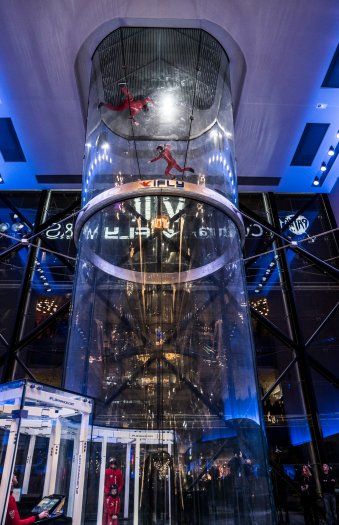 ex Villup and soon Boom Boom Villette, located in Paris in the Cité des Sciences is currently under construction. Only the cinema and the IFLY wind tunnel animation remain open.
Vill'Up closed in 2022 to reopen in the summer of 2023. Vill'Up will no longer exist in favor of a large leisure and restaurant center that will be called BOOM BOOM VILLETTE with the opening of the largest immersive escape game in France (dedicated to Batman), trampoline, laser-game, bowling, etc.
To discover: a dozen restaurants for all taste buds, a large Pathé la Villette cinema and new leisure activities.
Games and activities to fly and have fun!
Fly with iFLY
Open - For the spectacular and the thrills at Vill'UP, you have to go to Ifly and its surprising offer: fly in a 14 meters high tube (children can try the experience) to test the indoor free fall in total safety in this incredible wind tunnel and unique in Paris. With an air flow going from 100 to 270 km/h you will experience the same sensations of free fall as during a plane jump! Put on the essential suit, helmet and goggles, learn in a few minutes the codes to know and take off into the air! The instructor will then give you an aerial acrobatic demonstration.
Accessible to all - children from 5 years old and in all weather conditions. I FLY is located inside Vill'Up - Boom Boom Villette near the Cité des Sciences et de l'Industrie and opens 7 days a week from 10am to 1am.
www.iflyfrance.com/
Gaumont Pathé la Villette Cinema Paris
Open- The Gaumont Pathé La Villette cinema has 16 screens, including an IMAX theater, located on the top floor of Vill'Up. They are equipped with club seats, duo seats, dynamic. A coffee area, a candy wall and an ice cream area will delight the public.
Vill'Up opens on Sundays
The center is open every day including Sundays from 10am to 8pm. It is accessible by public transport and cars (1,600 parking spaces in the Cité des sciences et de l'industrie with direct access to Vill'Up). Remember to also go to the nearby Cité des Enfants in the Cité des sciences (preferably with a reservation).
BOOM BOOM Villette - what games?
Some ideas for game areas:
escape-game on the theme of Batman: 3 experiences to choose from, teams of 4 to 6 players (from 7 years old) / Duration: 70 mn / A bar and a store / reservation on: https://batman-escape.com/
mini-golf
trampolines
arcade games
kid's park (park for children)
chess tables
bowling
laser game
It's impossible not to find what you're looking for in all the possibilities of games, solo or with others.
What to eat at Boom Boom Villette?
Several Food Trucks will be installed, about twenty kiosks and... tricycles.
Three bars, including a wine bar and a beer bar, will delight adults.
Restaurants: list pending.
Cooking workshops, cooking shows and masterclasses will be offered.
Concerts, talks, showcases, DJ sets will be scheduled throughout the year.
Where are the other shopping centers open on Sundays in the north-east of Paris?