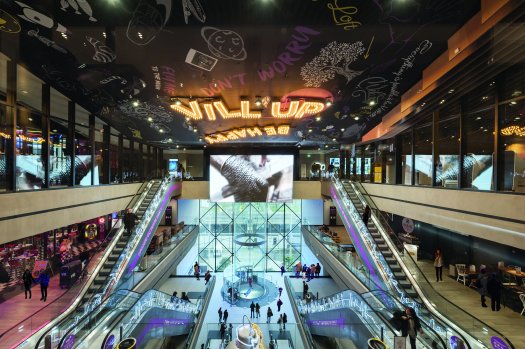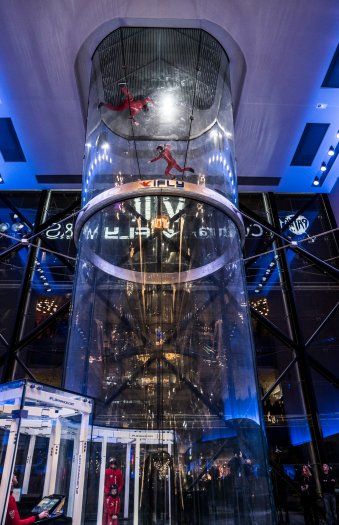 Vill up is located in Paris inside the Cité des Sciences, it was opened in 2016.
2021 - There are no more stores open but cinema and entertainment are still there.
Vill'Up will close in 2022 to reopen in summer 2023 after renovation! A project should take shape during 2023 with the opening of the largest immersive escape game in France (3,000 square meters), which will be dedicated to Batman. Waiting for more information.
Games, fun activities and entertainment!
For spectacular thrills at Vill'UP, try out the Ifly and its surprising offer: Fly away in a 14 meters high tube (children will be able to experience it too) to test the indoor free fall in this incredible wind tunnel. Put on your space suit, helmet and safety glasses, take a few minutes to listen to all you have to know and you will be able to fly in one hell of a noise! Accessible to all - children from 5 years old.
Gaumont Pathé Cinema la Villette Paris
16 movie theaters and one IMAX room are located on the last floor of Vill'Up mall with club armchairs and duet armchairs for lovers The "dynamic" armchairs are the most popular: they move in time to the action movie (available in two halls called "immersives"). A café bistrot area, a candy wall as well as an icecream parlour will delight the public.
Opening hours
Everyday from 9:30 a.m. to 1 a.m.
Open every sunday
The mall is open everyday including Sunday. Vill'UP is accessible by public transport or by car (1,600 parking spaces are available at Cité des sciences et de l'industrie which has direct access to Vill'Up). There is also direct access from la Cité des Enfants.
Related: What to visit at La Villette ?