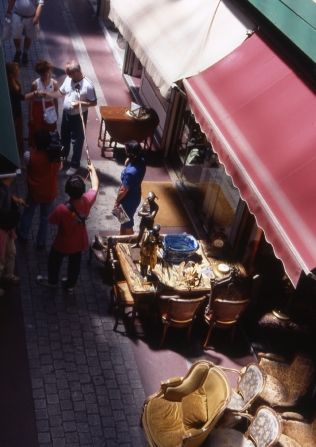 With the biggest antiques market (Saint-Ouen Flea Market), its shopping centers and different French traditional shops like Franciade in Saint-Denis, the northeast Paris region offers a wide range for shopping (clothes, food, jewelry...).
For art lovers, Saint-Ouen Flea Market is "the place to be" ; each area is specific (luxury or vintage furniture, clothes, old toys…). Glass, ceramic, stained-glass windows and others will remind of your time spent in France.
Shopping mall
Are you fond of fashion? You can buy fashionable and inexpensive clothes at Marques Avenue (more than 72 shops such as Quicksilver, IKK, Bensimon, Comptoir des Cotonniers,…) for all the family – shops for men, women and children. For interior decoration fans DOMUS is a good address: office, house and garden decoration. Aéroville, near Roissy, is a new shopping mall. Open 7 days a week (cinema, boutiques, supermarket). Check out also Bel Est Gallieni at Porte de Bagnolet Paris and coach station. Professional buyers and wholesalers meet all year long in the CIFA Fashion and business center.
Market stalls
For food lovers, various shops or market stalls are open:
the biggest market stall is Saint-Denis (Tuesday, Friday, Saturday and Sunday mornings)
African specialities in Paris 18 (Marché Dejean - open every day in the mornings - closed on Mondays),
all specialities at Marché de la Chapelle (10 rue de l'Olive – open every day in the mornings except Monday). 
All the addresses for cheap shopping and markets near Paris !