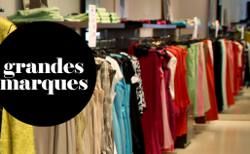 Marques Avenue located in Ile-Saint-Denis, in the North of Paris on a small island on the river Seine.
Marques Avenue Outlet: brand articles-lower price
Marques Avenue Outlet is located not far from Paris. It is ideal for fashion shopping and interior decorating. Marques Avenue also features a restaurant and free parking.
This Marques Avenue is the closest one to Paris where one can to buy "brand articles" at a lower price (- 30-50%): Desigual, Aigle, Comptoir des Cotonniers, Levi's, Bensimon, Ikks, Marlboro Classics, Clarks Lafuma, Mango outlet, Kaporal, Antonelle, Temps des Cerises,...
It is open from Monday to Saturday from 10 a.m. to 8 p.m.