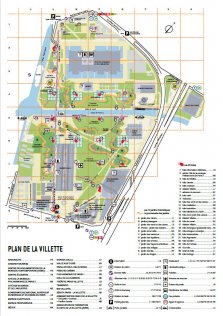 In 1974, the La Villette abattoirs, situated where Paris' XIXth arrondissement and the department of Seine-Saint-Denis meet, shut down for the last time. In 1979, the Etablissement Public du Parc de la Villette was set up and launched its major project for the rehabilitation and development of 55 hectares of industrial wasteland with three declared goals:
- the construction of a major architectural complex devoted solely to music
- the establishment of a national museum of science and technology
- the creation of an urban park dedicated to culture and open to all

Today, this unique complex offers a blend of nature and architecture, of leisure activities and culture. The arts and the sciences rub shoulders in buildings whose architecture is nothing short of spectacular.

In creating the Parc de la Villette, Bernard TSCHUMI turned the largest area of open greenery in Paris into an innovative urban park reconciling the town-dweller and his or her surroundings.  
Exceptional amenities for quality events
La Villette complex is distinctive in being home to a large number of public, private and voluntary amenities, marking it out as the major venue for culture, art, science and music.

In addition to all the exhibitions, circuses, festivals and children's workshops offered by the Etablissement Public du Parc de la Villette, the complex hosts numerous other events during the year. The Géode, where giant-screen films are shown, has screenings all year round with a new film on the bill every three months. The Cité des Sciences et de l'Industrie, one of Europe's greatest science museums, plays host to numerous exhibitions and talks aimed at both professional scientists and the general public, Junior Spaces 2 to 7 and 5 to 12 years...
With its 250 concerts yearly, its resources library, its rich and varied educational programme and its museum, the Cité de la Musique (Philharmonie de Paris) is a centre with a national and international reputation. Finally, there are also other venues staging performances and events to add even more variety to what the Park has to offer, including the Trabendo (concert), the Zénith (concert), the Cabaret Sauvage (concert) or espace Chapiteaux.
If you are visiting with children, do not miss free outdoor games at Jardin des dunes et des vents, garden of Dragon a playground. You can also do some shopping in Vill'Up shopping mall (open everyday).