A 1000m² space is dedicated to children from 4 to 10 years on the ground floor of the Philharmonie de Paris. It is the opportunity to have fun through music, to understand how it works, the sound, the interaction with music.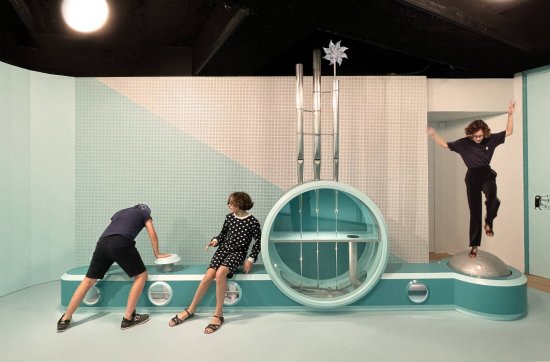 Playing at La Philharmonie de Paris
Five spaces are proposed to children to discover music while having fun. Over 1 hour children can handle the various and sometimes unusual installations! Want to be a musician? Would you like to try your hand at being a conductor?
Forest of sounds: create a sound from an object, from a natural element that can be found in the forest or the home… To discover that you can feel the sound!
Sound machines to handle: giant instruments, mechanical or electronic
On stage!: Make your choice: become a musician or an orchestra conductor leading a symphony!
Voices by the thousands: on this space, children can discover the multiple properties of the voice and can play with their voice and interact with others!
Let the music play!: that's the power of music! Discover how music changes your perception of it; depending on what you want… soft or loud the music becomes a language and a means of expression.
And also…
- A studio with sound samples and a 3D video on the walls is at your disposal.
- La petite fabrique (from 2022): a space to discover prototypes. In this space that can be called the lab, children become testers of musical games. Thanks to their feedback, the designers invited in La Petite Fabrique will be able to improve these prototypes.
- Podcasts, musical series around Jean de La Fontaine, interactive games to discover on Tadaa ! (online magazine that you can browse through on the Philharmonie de Paris Website).
Practical information - Philharmonie des enfants
The play area is open every day from 10 a.m to 1 p.m and from 2 p.m to 6 p.m. Closed on Monday.
The session lasts 1h and the child has to be with an adult (2 tickets to buy)
You can book your visit on the la Philharmonie des enfants - Philharmonie de Paris website.
Métro, tramway, bus - accès à la Philharmonie
subway : line 5 - Porte de Pantin
Tramway : T3B - Station Porte de Pantin
Bus : Line 75 and  Line 151 – Porte de Pantin