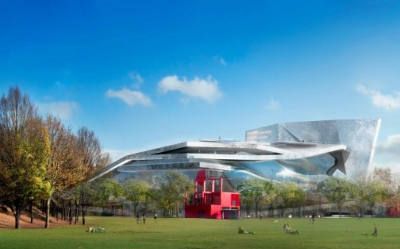 La Philharmonie de Paris is an important project, led by the architect Jean Nouvel, whose work lasted two years. Open since January 2015, it hosts many concerts, exhibitions and workshops.
La Philharmonie de Paris hosts major symphony orchestras without neglecting other forms of musical expression (concert with artists of today). This dynamic venue is home to several musical groups in permanent or temporary residence: Orchestra de Paris, Orchesta Ensemble Intercontemporain, Orchestra Chambre de Paris, National orchestra d'Ile de France along with Les Arts Florissants Orchestra.
The architecture is modern, innovative and at the leading edge of excellency both architecturally and acoustically. Accessibility and sustainability are the keywords for this acoustics feat, a reference model for this venue. The building is expected to have an area of approximately 20,000m2. It includes the large concert hall, foyers and rehearsal and administration areas for several orchestras. Let's not forget the education center, exhibition areas, restaurant and parking designed for the venue!
Philharmonie 1 – Great Room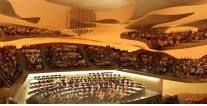 A superb hall with all the latest technology can accommodate about two thousand four hundred seated capacity and up to three thousand five hundred standing capacity (the seats can be removed to make room for the concerts of today). In addition to the hall two balconies offer more space to the public. The great concert hall is a true masterpiece; its architecture conveys the long-awaited remarkable, intimate and beautiful sound.
The stage has a surface of 283m2 and can accommodate any type of orchestral formation and concert and note that the background is equipped with an imposing fifteen meter high Riegie organ. The particular shape of the room and acoustic material used contribute to the high quality of sound and will allow the public to enjoy the sound and feel close to the stage.
Temporary exhibitions at the Philharmonie
The Philharmonia proposes two or three exhibitions a year in its groundfloor linked to their great musical programmation. For example it started strongly in 2015 with David Bowie is. The Cité de la Musique keeps its exhibition space.
The music workshops
The groundfloor is also used to give music lessons for beginners or not (children and adults). You'll find a room dedicated to introduction to music, group workshops, individual worksops, music recording...
Facilities for people with disabilities
A concert hall available to people with disabilities! Information in Braille, readjusted corridors, audio description headsets, 30 places for people with reduced mobility (PMR) with a seat for the person accompanying… everything is done to facilitate accessibility for everyone !
Philharmonie 2

Why Philharmonie 2? This is actually the new name to the famous Cité de la Musique which become an integral part of the project. After the inauguration of La Philharmonie de Paris (January 2015), the two buildings merge to form one unit. The whole set include the Philharmonie 1, the new building and La Philharmonie 2, known to public as La Cité de la Musique la Villette.
La Philharmonie 2 contains a concert hall that can accommodate about 900 seated places and about 600 standing. There are 250 "freeseating" places in the Amphitheatre.
The Philharmonie for children
The Philharmonie des enfants opened on September 2021! This place is a 1 000 m² space dedicated to children from 4 to 10 years old. They can play, listen, test, feel the music... in a path lined with playful installations to explore alone or with others.
Rooftop of the Philharmonie to enjoy the view of the Greater Paris
It is now possible to go on to the rooftop of La Philharmonie 1. Enjoy this panoramic view-point which opened during the 2016 heritage days. 37 meters from the ground, it offers a stunning view of greater Paris and can hold about 700 persons! Access to the roof top is free; the outdoor lifts in front of the main hall take visitors directly to the rooftop. Security guards posted at the entrance check bags and luggage at the entrance. To go down, take the "Chemin de Montagne" which runs the length of the roof to the park lawns. Opened from 12:00 am to nightfall.
Interested in art and creation tours? Check out our the page dedicated to them!
How to get to the venue: Philharmonie de Paris-La Villette?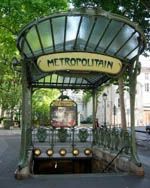 Located off the ring road "Porte de Pantin" and bordering Cité de la Musique, la Philharmonie de Paris is accessible both by road and Parisian public transport.
Metro, Tramway, Bus
Metro : line5 - Porte de Pantin
Tramway : T3B - Porte de Pantin Station
Bus : Line 75 et  Line 151 – Porte de Pantin
Vélib' : 210 avenue Jean-Jaurès and 3 place de la Porte de Pantin - 75019 Paris
Information Philharmonie 1 de Paris
http://www.philharmoniedeparis.fr/en/
phone : + 33 (0)1 44 84 44 84
Parking
Parking n°1 is accessible from the ring road. Drive along boulevard Sérurier from Jean Jaures Avenue towards Porte de la Villette. Capacity: 600 places for cars, 90 for motorbikes.
Parking n°2 is available directly from avenue Jean Jaures direction Paris. Capacity: 348 places for cars, 10 places for motorbikes.
You want more?
Click here to visit the Garnier opera house.