Visits Tours & Encounters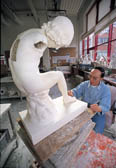 Companies in Seine-Saint-Denis create, invent, innovate and apply a wide range of different skills. They open their doors to visitors, with tours about art and heritage, food processing, imaging, the media and the performing arts, graphic design, transport and logistics, the environment, health, research and more.
If you want to go above the crowd pleasing sights and see what the Parisian region is really about, hop on one of our tours with amazing guides. This is an opportunity not to be missed to see Seine-Saint-Denis as it really is, "hard-living and gentle-hearted", and discover its history, its buildings and the people who give it life.
---
Workshop with craftsmen and artists
On your weekends and time off in the North-East of Paris, experience and share in the work, the passions and the way of life of artists and artisans. From an introduction to molding techniques to preparing and producing great chocolates or designing and adding personal touches to objects in wood, large numbers of professional tradesmen and designers offer courses throughout the year, introducing you to their work and welcoming you into their world. Discover the savoir-faire in the Seine-saint-Denis department.