You are spending your summer in Paris or its region and don't know what to do? Take a look at our selection of places, events and tips for the month of July.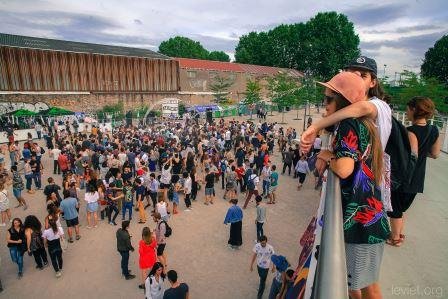 Free outings in Paris on Canal de l'Ourcq
Exhibitions, street art trails this summer
Since July 2016, various urban artworks are exhibited all along Canal Saint-Denis. You can admire this outdoor art gallery all summer long for free while walking or biking on the canal's banks. You can also join guided tours to learn all there is to know about street arts. Do not miss the frescoes along Canal de l'Ourcq too.
Free dance balls during the month of July - Saturday, Sunday
Where to dance in Paris in July?
Barges, dance balls, concerts will once again be on the agenda this summer on the banks of Canal de l'Ourcq. Many free balls are accessible to all and will be held every week-end in July on the water's edge in the Parisian region. Shows, exhibitions, and dance workshops are held every year in Paris and its region.
Free outdoor Cinema in Paris in July
Open air Cinema at Parc de la Villette
The parc de la Villette holds its open air cinema at Prairie du triangle in july and august. From Wednesday to Sunday, at night fall, come and enjoy a movie out in the open. -  Parc de la Villette - Paris 19th arrondissement. All film projections are free and open to all... You can rent deckchairs or bring a plaid to keep you warm as it can get quite cool at night).
Free sites to visit in July
Heritage visits and places of history are organized - some visits cost a few euros, but most of them are free. It will be the opportunity to become familiar with the department and discover all that it has to offer.  Some amazing visits, urban walking tours of Paris's districts will be part of the program (feel free to browse through the July program).
What to do in Paris with children?
In July, themed workshops await you. Wonder and creativity are on the agenda, especially for children: music and dance workshops, culinary workshops, Science workshops...
Bike tours will be available, the perfect way to discover Canal de l'Ourcq with the family. You might even be able to get on a boat for a bicycle cruise (on confirmation).
In July, Paris-Plage takes over!
Paris Plage will be back at Bassin de la Villette and has a special program especially for children, canoë, zip lie, electric kart... Paris Plage is a child's paradise.
Party in the Paris region this summer
July is the month dedicated to Paris summer concerts! Enjoy a program of open air concerts ,festivals and indoors concerts in Parisian venues or parks in Ile-de-France.
The concerts at Cabaret Sauvage
Festival LaPlage concert at Glazart
Programs in the city of: Pantin, Bobigny, Aulnay-sous-Bois...
Concerts and free shows in Paris during summer
Paris l'été allows you to travel without actually moving with music groups coming from different horizons for a roadshow in Paris' parks and gardens. A multitude of lively shows around dance, theatre, music... Offbeat cultural offers (often free) will be available, from July to August.
Bal des pompiers and Bastille day celebrations (July 14th)
Where to dance in Paris for Bal des Pompiers? Various Parisian barracks organize the Bal des Pompiers for the national holiday either on the evening of 13th or 14th of July. Traditionally, the barracks Bitche 2 located place de Bitche in Paris 19th arrondissement opens its doors on July 13th for a dance ball on the banks of Canal de l'Ourcq.
Where to watch fireworks on July 14th in Paris? There will be fireworks in the towns where Canal de l'Ourcq runs through and elsewhere in Seine-Saint-Denis. It is possible to attend torchlight processions and many fireworks displays.
Where to eat on the water's edge in Paris? This summer, enjoy your meal on a terrace or on a barge, you can even do a small picnic alongside the water's edge near the canal. Choose a restaurant on the water's edge in proximity of Canal de l'Ourcq or Canal Saint-Martin. Check out also our selection of nice terraces and spots for a picnic this summer in Paris.
You'll be in Paris in august too ?  Find out what to do in August in Paris?