North-East Paris is years after years proving itself to be THE place to be for a successful party in Paris and its region! The north-east of the French capital is the scene of rising DJs, new trends and eclectics parties. Looking for a place to have fun, a good drink, meet new people and most importantly dance?  Here's our list of recommendations for visits, night strolls, night cruises, venues for shows and celebrations, and the festive areas in North-East Paris…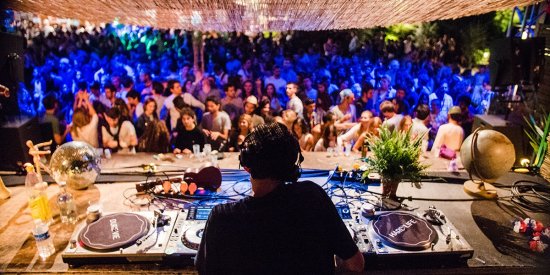 Places to party 
Le Chinois: This small club in Montreuil might not seem like it but this is where true alternatives and convivial parties in the Parisian night life take place. A festive, joyful club that's not very selective to fully enjoy an eclectic musical program of concerts, soirées, balls and DJ sets. 
Le Nexus: This night club is THE place for Parisian nights. An innovative and futuristic club 2.0 with holograms and 360º mapping located at 100 avenue du Général Leclerc en Pantin.
Glazart: Glazart took control of the old fortifications area between the Parc de La Villette and Aubervilliers. Clubbing and concerts to the sound of techno, house, metal, rock, trance, dub, hardtek, dubstep and everything in between. Concerts on La Plage de Glazart during summer are not to be missed. 
A la folie: In the heart of the biggest urban park of Paris, La Villette.A la Folie is settled in...one of the park's folly. This club is also a bar, a giant barbeccue, a restaurant and a beer garden. A place where you can spend the day with your family, have an aperitif in the evening, and dance all night long on weekends. The program is more of house, disco, funk, hip hop, techno music.
Longing for a concert?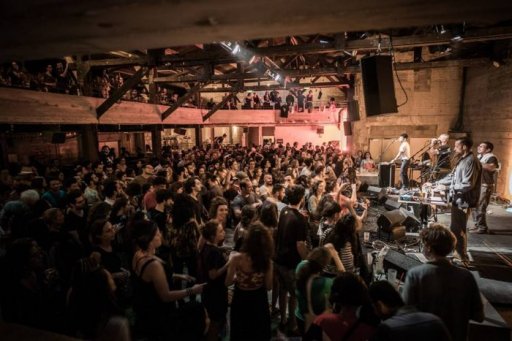 Les instants Chavirés : This concert hall was thought to be a laboratory dedicated to experimental music, improvisation and brutish music. A rich and eclectic program near the metro Robespierre in Montreuil
La Marbrerie : Still in Montreuil, a beautiful concert hall in an former marble factory - hence the name-. Raw concrete and beams for a varied musical program and a bar to eat and drink before, during or after the concert. The public is friendly and diverse. A place not to be missed.
Le Dynamo de Banlieue Bleue:  Installed in an old hessian factory entirely rehabilitated, it is the creme de la creme to listen to jazz music. A jazz that opens its doors to rock, reggae, world music, free music... In short, a mix of musical expressions in a room that regularly capsizes.
La Station : At the crossroads of Paris, Saint-Denis and Aubervilliers, La Station - Gare des Mines has taken over a former coal station. Led by the Collectif MU, the station highlights emerging artistic scenes. Inside and outside, the nights are feverish in a great creative mix. 
Restaurants with concerts or DJ Set 
Le Dock B : Set up in Pantin, this festive restaurant benefits from a lovely menu and a splendid terrace on the canal de l'Ourcq.
Le Mob : Invisible from the outside the restaurant offers concerts with great international artists ( Neneh Cherry, Keziah Jones..), DJ set evening  or projections in summer on its huge terrace.
Alternative places and temporary "brownfields" in north-east Paris.
The north-east of Paris boasts many cultural and festive venues with their sometimes unusual program of celebrations, festivals, concerts, and cultural events. Some of these collective and cultural performing sites have taken up residence here such as: 6b Saint-Denis or Villa Mais d'Ici Aubervilliers, others set up temporarily on uncultivated land or "brownfields", such as the Station, Paris18 or Halle Papin in Pantin.
When cultural places celebrate!
In Aubervilliers, La Commune offers monthly "Les Nuits de La Commune" ( DJ set, dance floor..) to celebrate after a show. Maison Populaire launches its Nuit Pop, a nightly event at the crossroads of artistic disciplines.
The Magasins Généraux host events around electronic music, such as the Central, a house festival.
Night cruises on Parisian canals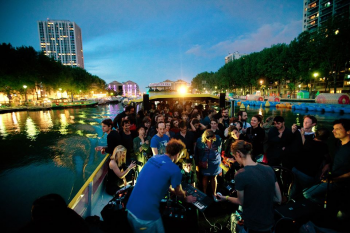 Festive cruises are held on the canal de l'Ourcq departing from the bassin de La Villette. Enjoy a drink, dance to the DJ's electro sets or listen to live music on the boat while admiring the Paris lights shimmering on the face of the water… everything is possible!
You can also do cruises on the Seine, a must-do. These cruises are proposed especially when the weather is nice but some are proposed all year long.
Night strolls
Locals are more than happy to show you around their neighborhood by day or by night, they will take you to key places or other less well known areas and  go with you to festive and friendly venues.
Big nocturnal events in Paris
The city of Paris offers major festive events by night: La nuit blanche – "All-nighter", la nuit européenne des musées – "European museum night", the gay pride, the techno parade...
Large-scale venues host major electro music festivals such as the Animalz party at the Pullman docks, the Weather festival at the Paris Event Center, or the Cercle festival at Le Bourget.
Going out in Paris : concerts, shows, theaters
The cultural agenda in Paris and its suburbs is chock-a-block! Among the plethora of choices there are concerts, theatre plays, dance show etc. why not take advantage of your presence to take a behind the scene visit?
Festive neighbourhoods in the north-east of Paris
Belleville, Ménilmontant, canal Saint-Martin...
The 18th, 19th and 20th arrondissements in Paris are where night-owls like to go. Ménilmontant and Belleville are areas known for their concert halls (La Maroquinerie or La Bellevilloise), cafés and night bars.
On summer evenings in Paris, the terraces and banks of the Parisian canals are very crowded. Around the bassin de La Villette, you will find cinemas, restaurants and bars. Le Point Éphémère, on the banks of the canal Saint-Martin , offers dance parties, DJ sets, exhibitions... The canal Saint-Martin is also a very popular place in the evening : people come to picnic, to have an aperitif sitting on one of the terraces or on the edge of the canal.
Some hotels and youth hostels offer late checkouts for those who have been walking through the Parisian night until the early morning.
Montreuil is a very lively city with many festive and cultural places. Discover the two most animated districts of Montreuil, both located around Croix de Chavaux: Bas-Montreuil and Mairie de Montreuil.
If you're still not ready to go to bed check activities to do in Paris early in the morning.
Practical information: night transportation
Paris transport / "petite couronne" metro, tramway and bus all stop around 00h20/00h40 during the week and between 1h20 and 2h in the morning on Fridays, Saturdays and the night before bank holidays depending on the stations. The first metro leaves at around 5h30 in the morning.
At night, the RATP Noctilien night buses take over and run from 0:30 am to 5:30 am approximately. They can be identified with an N in front of a number.  You can also use a vélib' (bike) or the Autolib' (car) or take a taxi. Some clubs even offer a private shuttle service right to your hotel door.  The transport offer is expanding with, for example, shared transport services such as Padam.
Is the subway working at night ? 
The subway doesn't work at night except for specific events (New Year's Eve, Fête de la musique, etc.) and only on a few lines and stations do stay open during these days. In these cases, RATP indicates which lines are "open at night".
You have Noctilien stations in front of almost all Parisian train stations and other emblematic places: Châtelet, Montparnasse, Gare de l'Est, Gare Saint Lazare and Gare de Lyon for example.
Noctilien buses also run to the Ile-de-France region and drop you off near RER stations  and airports (CDG3 with the N140 and N143 from/to Gare de l'Est and Orly Sud airport with the N31 from/to Gare de Lyon).