You are in transit for a few hours in Paris during your trip, trying to kill time between two trains? Or, you are simply an early riser or night owl looking for something to do after a night partying? Here are some suggestions of early morning activities in Paris.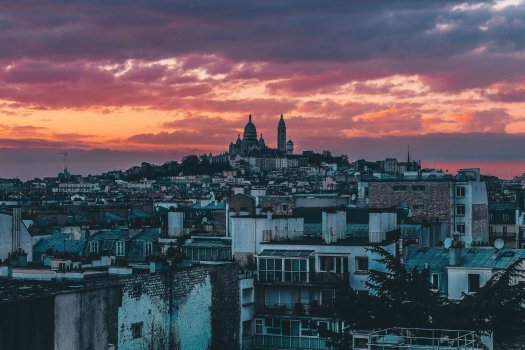 Photo by Grillot edouard on Unsplash
1 - The Parisian parks during the early morning
The Parisian parks open early. Make the most of your time to enjoy the sunrise in the lovely panorama of Buttes-Chaumont. In summer this park is open 24 hours a day. Parc de la Villette never closes.
2 – Early breakfast or brunch
Some bakery shops in Paris open very early. Relish the hot croissants during your early morning escapade. Some Parisian cafés open up at dawn and propose tasty breakfast formulas.
Check out the list of recommended restaurants in Seine-Saint-Denis.
3 – Enjoy the market
Markets of the Parisian area start early in the morning. Why not stroll in a the Saint-Denis market at the beginning of the day? This cosmopolitan market will make you discover amazing products from all over the world. If you are interested, you can even visit the market with a guide to understand how it is organized (visit in french only).
4 - Les Puces of Paris
Puces Paris Saint-Ouen: the biggest antique flea markets opens at 10 a.m. on Saturday, Sunday and Mondays. Enjoy a coffee in one of the trendy Parisian bistros in the flea market before bargain hunting at the stallholders in Saint-Ouen.
The Flea market in Montreuil opens at 7 a.m. on Saturday and Sunday. Go there make good deals and find vintage treasures, second hand clothes and trinkets.
5 - Cruises Canauxrama and Paris Canal in the morning
Several cruises on the Parisian canals are open early in the morning. You can also opt for an Electric without licence boat and sail on the canal de l'Ourcq daily from 9:30 a.m.
6 – Early morning movies
Many cinema houses propose movie screenings at reduced rates in the morning. Discover cinema in North East of Paris.
7 – Early running
Early morning jogging, avoid the crowd and run in the parks and along the canal banks, ideal running paths in pleasant surroundings for your morning jog..
8 - Morning halt at Charles-de-Gaulle airport
Discover the backstage of the international Roissy CDG Parisian airport (in french only) during your stop in Paris. There are also loads of other things to do in the airport during your transit.
9 - Watch a nice sunrise in Paris
There a loads of great view points to watch the Parisian sky. Montmartre, Buttes-Chaumont, Plateau de Romainville etc. you'll have the best sunrise experience of your life!
10 - Enjoy a lie-in!
You are mostly a night owl, you can also opt for a lie-in. If you want to enjoy the Parisian nightlife, we suggest a night in one of the hotels in Paris which accommodate their prices for partying guests late departures as the Golden Tulip Little Palace at République.