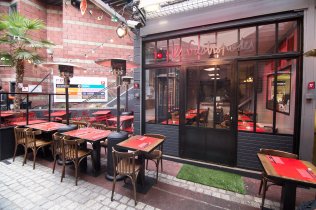 During your visit to the Paris flea market take a break and discover one of the restaurants in the area. Each market has restaurants (Biron, Dauphine, Vernaison, Paul Bert Serpette...). A lot of specialties are proposed: Japanese, French, Italian, American and even sea food... Between bargaining with a seller for a nice piece of porcelain tea set or an antique clock, put your shopping bags down and your feet up. Enjoy your lunch at the Paris Saint-Ouen flea market! Here is a selection of restaurants open during the flea market (on Saturday, Sunday and Monday).
Breakfast in the flea market
If you arrive early in the morning to avoid the crowds, don't forget that you can take your breakfast in one of the numerous cafés in the Paris flea market or just a few steps away. Enjoy your coffee or tea, and orange juice, with a croissant or tartine (toast), on a terrace or inside.
Typical French restaurants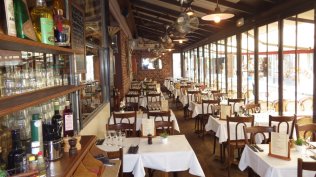 Brasseries, cafés, troquets, bistrots… there are so many French words to describe those small typical places where you can stop to take a coffee or to eat a plat du jour, home-made meal, salad, quiche, pie or cheese platter with bread and butter…
If you want to immerse yourself in the flea market atmosphere you must to go to "Le Comptoir des Puces" (110 rue des Rosiers), the place where store holders and bargain hunters generally  go for lunch. 
If you prefer sea food, you can go to "Au petit navire" (116 rue des Rosiers) to enjoy, for example, sardines or mussels with French fries.
Eat and listen to music at the Saint-Ouen flea market
The Saint-Ouen flea market is well known for jazz music. Many famous jazz musicians have performed here. Once a year, in June, a "jazz musette" festival  is organized in Saint-Ouen and brings together the best artists of the jazz manouche scene. Concerts take place in cafes and restaurants located in the market.
La Chope des Puces (122 rue des Rosiers) is the most famous jazz musette cafe in the flea market because Django Reinhardt played here. This place is also a jazz school. You can listen to a jazz band playing live while eating. Concerts are proposed on Saturday and Sunday from 2 to 5 pm.
Chez Louisette (130 avenue Michelet inside the Vernaison Market) offers a simple cuisine and a unique "guinguette" atmosphere with musicians and singers.
Discover more restaurants located in Seine-Saint-Denis!