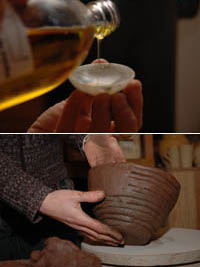 The association Savoir-faire et Découverte invites you to discover the many and varied skills to be found in Seine-Saint-Denis and North-Eastern Paris.
The area's well-established economic dynamism (it is the Paris region's third leading department in terms of the establishment and retention of companies) gives it a strong identity in matters of artistic achievement and craftsmanship marked by creativity and fashion, skills with a bearing on live performances, catering, furniture decoration and arts and crafts.
This heritage is now highlighted and exploited in eighteen short courses (of 1 to 6 days), led by skilled artisans involved in sustainable development.
The creation of decorative items, wooden furniture, jewellery and ethnic clothing, the making of one's own cosmetics, the creation of an environmentally friendly garden or of a living environment using materials beneficial to one's health, the making of great chocolates and an introduction to the various techniques of mosaic-making: all of these skills are practised by professionals who have chosen to share their passion in their workplace or in specially adapted surroundings.
These courses provide the possibility of learning about and sharing in activities so as to better understand them, take them up later or even prepare for a change in career…
With prices ranging 60 to 500 ¤ they make great ideas for gifts.
If you are fond of craft and artistic activities don't miss our page about savoir-faire in Paris and our other one about art and creation!
Pratical information
The courses are for individuals and professionals. Apply on-line.
You can also apply by telephone

 Tel. : + 33 (0)2 33 66 74 67 / + 33 (0) 820 820 186

www.lesavoirfaire.fr

info@lesavoirfaire.fr