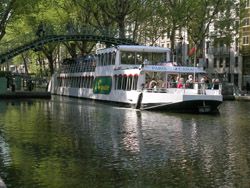 Besides traditional cruises on Parisian waterways and Paris river-boats proposing dinner on the Seine River, visitors are invited to board and sail on the canals of Paris all year long.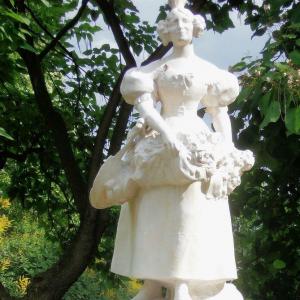 Cruises on Canal de l'Ourcq, Canal saint Denis, Canal Saint Martin or on the Marne River are a perfect way to experience the atmosphere of unusual interesting sites and sometimes the fascinating unexpected facts of Parisian landmarks. To explore these treasures and enjoy this atmosphere, opt for a Paris boat tour and visit the locks. Highly experienced Parisian river cruises companies – Paris Canal and Canauxrama – offers extensive choice of Paris cruises: night-time boat cruises, special events tours such as birthdays, Valentine's Day, romantic lovers river cruises, New Year eve's dinner cruises and cruises for fashion shows…
Discover Paris boat tours for the Canal de l'Ourcq summer event. Enjoy the delights of a cultural and night-time cruise as well as a special themed cruise in Paris such as gourmet boat tours, wine tasting and live-concerts cruises in store for you each summer. Take a look for more information about the canal cruises on the Paris tourist office website or the Seine River Cruises on Paris City Vision Website.
Best boat tours Paris
Sail on Canal de l'Ourcq, Canal Saint-Denis or Canal Saint-Martin, take a trip with Paris Canal or Canauxrama and enjoy the delights of a leisurely cruise through North-Eastern Paris.
Paris Canal boat tour company
Sail with Paris Canal company, take a cruise with commentaries in French and English. Paris Canal has an original selection of cruises for you : discover or rediscover Paris as you've never seen it before! Paris Canal also has whole-day excursions, notably an idyllically rural cruise on the Seine River and the loop of La Marne river.
Boat cruising in Paris with Canauxrama
Discover the cruises proposed by the company Canauxrama boat tours during the year in Paris on Canal Saint Martin, on the Seine, Canal de l'Ourcq or along the Marne. Various cruises, with very attractive prices, are programmed to visit Paris by boat. Embark on one of the Canauxrama cruises and enjoy the delights of a leisure cruise to discover the Paris canals.
Good deal cruises on the Marne
Discover the natural resources of the banks of the Marne by sailing from Gournay-sur-Marne to Neuilly-sur-Marne for a couple euros or for free.
Related : Cruises on the Seine river and small boat rental on the parisian canals.