Cruise outing on the Marne: A good deal for your summer weekends!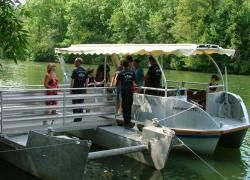 The bargemen of the Marne river are at work again this summer because of their precedent year's success. They will make you discover the banks of Neuilly-sur-Marne and Gournay-sur-Marne differently by sailing from one to the other. The sailors will start their service on June 8th 2019 and will end two month later on September 8th 2019.
2 types of navigations are proposed every weekend: the shuttles and the "Passeurs"
On small boats of 12 places, you'll discover the wild Marne (its fauna and flora: ducks, swans, herons, coots, gulls, terns...). The sailors of the "Au Fil de l'Eau" association will make you explore green landscapes and will show you how this ecosystem is protected.
Fluvial cruises on the Marne summer 2019
Every weekend you will be able to sail for a couple euros between the banks of Neuilly-sur-Marne and Gournay-sur-Marne for about 40 min of a unique experience.
There also are other water outings  and themed cruises every week in summer for fond people!
Practical information Neuilly-Gournay shuttle
Cost of a single ticket between Neuilly-sur-Marne and Gournay-sur-Marne : 4¤/adult and 2 ¤/under 12 (one way trip tickets only)
Duration of trip: approximately 40 minutes
Boat limited to 12 people
1st departure from Neuilly-sur-Marne at 2p.m. and then a departure every hour
Last departure from Neuilly-sur-Marne at 6 pm
1st departure from Gournay-sur-Marne at 2p.m. and then a departure every hour
Last departure from Gournay-sur-marne at 7 pm
Time-table Passeur de Rives
With the Passeur you can sail between Noisy-le-Grand and Neuilly-sur-Marne every weekend between the 8th of June and the 8th of September 2019.
Single ticket between Neuilly-sur-Mare and Noisy-le-Grand : free
Duration of trip : approximately 5 minutes
1st departure from Noisy-le-Grand at 2p.m. with a departure every 8/10 minutes
Last departure after the return of the first boat coming from Gournay
These schedules are only informative. The organizors can stop the activity at any moment if the weather is not propitious or if there is a hazard.
 Access to the shuttles
RER A : direction Marne la Vallée : stations Neuilly-Plaisance, Noisy-le-Grand Mont d'Est
RER E : station Chelles-Gournay
Autoroute A4 : From Paris, exit N°8, Noisy-le-Grand, Portes de Paris / exit N°10 Champs sur Marne - Cité Descartes
N34 / Avenue Jean Jaurès : Neuilly-sur-Marne. Entrance - Parc de la Haute-Ile
RATP bus network : lines 113, 213, 312, 220, 320ab, 303
Addresses of pick-up points and floating platforms with Passeurs de Marne and  Passeurs de Rives
Neuilly-sur-Marne : Marina, ponton 2DN (Access by the pathway « Chemin de l'écluse »)
Noisy-le-Grand : At the corner of Quai de la Marne (N°77) and Allée des Belles Vue
Gournay-sur-Marne : At the corner of the pathway « chemin de Halage » and Rue du Belvédère.
Extract of the regulations of Passeurs de Marne :
Maximum capacity: 12 passengers per boat. Children are the parents or guardians responsibility
First come first served : tickets to be paid on-site and embark according to order of arrival.
Passengers must disembark after each crossing.
Passengers must comply to respect the safety instructions during the trip.
Life jackets are available.
It is forbidden to smoke, to drink alcoholic beverages on board and to dump any waste in the water.
Crew members reserve the right to refuse admission of people whose behavior they judge dangerous.
3 or 4 bikes can be transported depending on the availability of places on board.
Only dogs kept on a leash and muzzled are allowed on board.