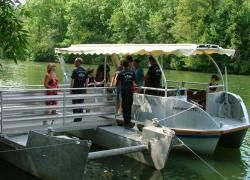 Try the boat trips on the Marne, a good cheap plan for your summer weekends! 
The river shuttles on the Marne, between Neuilly-sur-Marne and Gournay-sur-Marne, come back every summer.  The Passeurs de Marne offer you the possibility to discover the banks of Neuilly-sur-Marne, Gournay-sur-Marne and Noisy-le-grand by sailing from one bank to the other with shuttles. In 12-seater boats, you will discover the fauna and flora of the Marne while exploring green and calming landscapes. 
Every weekend during the summer, you can embark on a shuttle for very little money and admire the view while taking in the fresh air. The trip between Neuilly-sur-Marne and Gournay-sur-Marne takes about 40 minutes. 
Access to the shuttle
RER A : towards Marne la Vallée : Neuilly-Plaisance or Noisy-le-Grand Mont d'Est station.
RER E : station Chelles-Gournay
A4 freeway : from Paris, exit N°8, Noisy-le-Grand, Portes de Paris / exit N°10 Champs sur Marne - Cité Descartes
N34 / Avenue Jean Jaurès : Neuilly-sur-Marne. Entrance - Parc de la Haute-Ile
RATP bus network : lines 113, 213, 312, 220, 320ab, 303
Addresses of pick-up points and floating platforms with Passeurs de Marne and Passeurs de Rives
Neuilly-sur-Marne : Marina, pontoon 2DN (Access by the " Chemin de l'écluse " road)
Noisy-le-Grand : At the corner of Quai de la Marne (N°77) and Allée des Belles Vue
Gournay-sur-Marne : At the corner of the road "chemin de Halage" and rue du Belvédère.