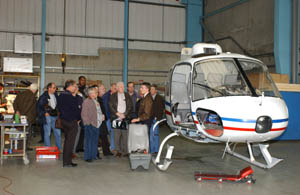 The culture of work is one of the key original features of Seine-Saint-Denis, a department which has always been the setting for human and technological achievements which have forged its identity. Today, Seine-Saint-Denis boasts a diversified and dynamic economic structure, and companies with an eye on their image and that of the department open their doors and offer the general public a chance to learn something of their skills and practices.
With this in mind the Tourism Board has set up an innovative program of visits to industrial concerns, businesses and laboratories.
A varied and comprehensive program
The Tourist Board publishes a list of visits in a wide range of different areas, including industry, arts and crafts, heritage projects, food-processing, imaging, the media and the performing arts, graphic design, transport and logistics, the environment and research.
An other particularly important event: the partnership arrangement with the Paris Convention and Visitors Bureau. As a result, companies from the eastern part of the Paris area, close to Seine-Saint-Denis, appear among the list of places to visit and prestigious concerns offer visitors the opportunity to take a look behind the scenes.
Discover the possibility of seeing almost 100 companies' premises. Among them are PSA Peugeot-Citroën, Christofle, the Ateliers de Moulage du Louvre, L'Européenne d'Embouteillage, Charles de Gaulle Airport, Air France Cargo, Air France Industries, RATP, the Eiffel Tower, the Opéra Garnier, Agence France Presse and more...
An innovative project
These industrial and company visits enable participants to observe particular processes, learn about innovative or traditional techniques, and familiarise themselves with research and production processes. Visitors (generally not more than 16 in number), are taken by a technician or member of staff to see the inner workings of the research firm, the laboratory or the workshop without hindering production, creating a link between visitors and employees which enhances the importance of the worker's task. Visits last from an hour and a half to much more, depending on the affinities between the technician or member of staff and the visitors, and on their respective availabilities.
Pratical information
For further information check our online shop ExploreParis.