The Paris Plages beach festival runs from Saturday July 8 to Sunday August 27, 2023  at the Bassin de la Villette!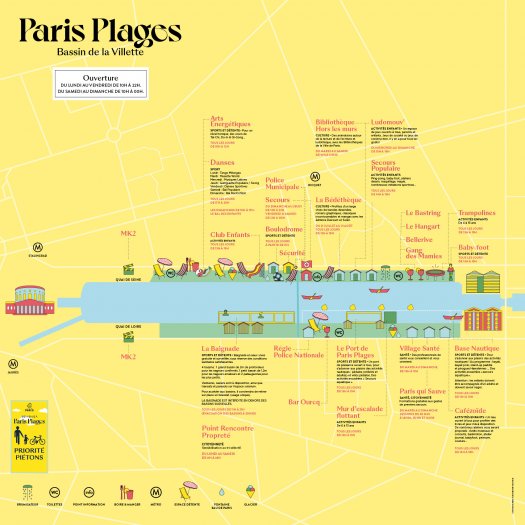 Click to enlarge
Paris plages summer festival
Along the Quai de la Seine and Quai de la Loire, there will be deckchairs, pétanque, fountains, activities and entertainment for children and adults alike. A water sports complex will be offering introductions to canoeing, rowing, dinghy-sailing and more besides.
Since 2017 you can swim in Paris with the three basins along the Quai de la Villette. One basin is 40 cm deep, the second 1.20 m deep and the largest 2.20 m deep.
The bathing places are opened by rotation of 2 hours in order to clean the spaces before a new wave of 2 hours of bathing.
A summery ambiance is assured in the pavement cafés, where visitors can relish leisurely hours of dolce farniente discussing the boules matches going on, while the children splash around in the fountains and run off to all the entertainment and activities. So plenty of events and activities to enjoy with family or friends.
You want more activities around Paris's water banks? 
After a day at the Bassin de La Villette you can go to the open-air cinema of La Villette to have a good time with family or friends (free). The open-air cinema is open from mid-July to end of August. 
Cruises departing from the La Villette basin
All summer long, many original cruises are offered on the Ourcq canal, departing from the Villette basin. Whether you are a history, street art or cinema enthusiast, you will have the opportunity to embark on the cruise of your choice.
Book a cruise departing from La Villette
How to get to La Villette and Paris Plages basin
Pedestrian access to Paris-Plages
Paris Plage festival stretches along the Ourcq canal and offers several accesses to the quays. To get to the activities of Paris Plage, go near the Rotonde, place de la Bataille de Stalingrad - Paris 19 at the Bassin de la Villette.
Getting to Paris Plages at the Bassin de La Villette by transport
Metro: stations Jaurès (lines 2, 5, 7a), Crimée (line 7) or Laumière (line 5).
Bus: lines 48 and 54.
Vélib': stations available at the Stalingrad and Jaurès metro stations.
---