Looking for a nice address where you can have a drink outdoors in Paris this summer? Enjoy our selection of pleasant terraces along the Paris canals and our choice of places and parks to picnic.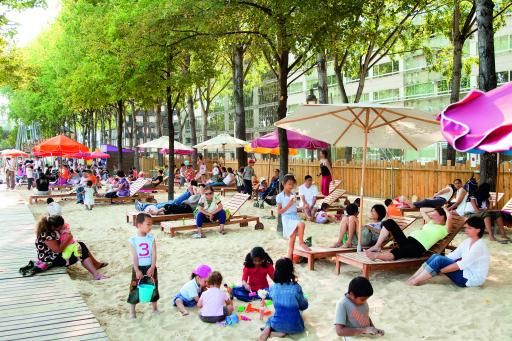 Nice terraces in Paris to sit and drink in summer
What is nicer than sitting at a terrace in summer in Paris when the sun is shining? Sipping an aperitif on a terrace along the water's edge! But to get away from the traditional spots along the Seine, we suggest that you take your coffee in bars and cafés in the North-East of Paris, close to the canal de l'Ourcq, bassin de la Villette and canal Saint-Martin.
Cheap bars and cafés in Jaurès/Stalingrad
Go to 25°Est to enjoy a drink in the sun in Paris with your feet by the water. This bar-restaurant, only opens when the weather's good, it has two terraces: the first one is on ground level on the water's edge, the second one is on the roof with a fantastic view of the bassin de la Villette and place de la Rotonde.
On the canal Saint-Martin, you can have a drink at the Point Ephémère. Doubling up as a cultural and exhibition centre, you might be lucky enough to see a small concert while enjoying your refreshing drink.
Back at the bassin de la Villette and the Bar Ourcq, a very pleasant venue to have a drink. Situated at 68 quai de Loire, this convivial bar provides deckchairs and even Petanque bowls to enjoy while you drink! Many concerts are regularly given in this bar.
Not far, the Pavillon des canaux, a very popular place to enjoy a drink on its beautiful terrace or simply to relax inside.
It is also possible to drink or eat at the bar restaurant La Rotonde. Situated within the walls of the former customs barrier designed by Nicolas Ledoux on the place Stalingrad, the establishment has created an urban garden with a very pleasant fresh and airy terrace.
On the quai de la Seine, the Paname Brewing Company has a beautiful terrace on the water's edge with its craft beer brewed on site.
You can also enjoy the restaurant terraces situated opposite the Crimée lift-bridge at the end of the bassin, just beside the youth hostel St Christopher's Paris Hostel. Indeed, La Criée offers a very pleasant setting in nice weather. Finally, the café terraces of the two MK2 cinemas are quite popular to sit at and to enjoy a coffee.
You can enjoy the cosy German atmosphere of Kiez Kanal, a German bar that's located right on the banks of the Ourcq canal, on the other bank of the canal you can sip delicious coffee and fresh smoothies in Kaffee bar 19. 
For more bar and restaurant addresses close to bassin de la Villette, consult the selection of catering within proximity of Canal de L'Ourcq, and restaurants in the 19th district of Paris.
If there are no places left at the Paris terraces why not cross the ring road and try out places that combine relaxation and conviviality on the water's edge. Two addresses not to be missed: Chez Agnès in Pantin, L'Oasis d'Oremi and l'Oasis Café in Bobigny.
Enjoy a drink or lunch on a barge in Paris
Several cultural barges are moored on the bassin de la Villette. Bar & restaurant, it is possible to eat lunch, have a drink, see a concert, an exhibition or take part in a workshop on board these barges. Come and enjoy the decks and activities proposed on board the Antipode, Metaxu and Anako.
As part of the Ourcq festival and exceptionally in July and August, the Antipode and Anako take to the water and stop off at each town that the canal de l'Ourcq crosses: Pantin, Bobigny, Aulnay-sous-Bois, with a specific program with diverse activities on each occasion.
Places to picnic in Paris and the Paris region
Another pleasant activity in summer is to sit down in a park or any other nice place to picnic outdoors. Here again, we recommend the bassin de la Villette, and even though it is often taken over by Parisians, it is still very pleasant to sit on the water's adge and watch the sun set. In addition, on the quai de Seine side, free concerts given on Paris Plage liven up the bassin almost every evening! You can also go to the banks of canal Saint-Martin for a picnic. It is a very popular place for Parisians and tourists. Music enthusiasts often come here to sing the odd song.
Parks to picnic in the Paris region
If you are looking for wide green spaces on which to picnic or perhaps smaller, more intimate spots, here is a selection of some big parks and green spaces, a little removed from the center of the city but still on the metro or RER lines.
The parc de la Courneuve, has 400 hectares of green spaces and several water spots to cheer up the weary Parisian in search of fresh air. Almost as big in size and floral diversity (vines can be found here!), you can also picnic at the parc du Sausset, in Aulnay-sous-Bois.
During the summer festival "été du canal", you can take the boat shuttles each weekend and stop off at parc de la Bergère, on the banks of the canal de l'Ourcq, or continue further on the canal to picnic in the magnificent parc de la Poudrerie.
Picnic with a bird's eye view of Paris
There is one place in North-East Paris that is very pleasant to have a picnic: the Buttes-Chaumont park. Perched on top of one of the highest hilltops in Paris, this park offers a lovely view over Paris. Some popular cafés, such as the Rosa Bonheur, are set up inside the park.
What to do this summer in Paris? Good tips for trips
Looking for something else to do this summer in Paris? tips, free trips, concerts, festivals, exhibitions… Consult our selection of things to do in July and August. Enjoy your summer!
Outdoor movie theater 
Follow the canal and you will reach the parc de la Villette, one of the nicest spots in Paris to relax outdoors. There is plenty of green space for everyone to enjoy a picnic, snooze or play football, without feeling cramped. Every summer, an outdoor cinema screen is set up in the park on the main lawn. Films begin at dusk. Free entrance.