Cultivate your summer on the barge Anako!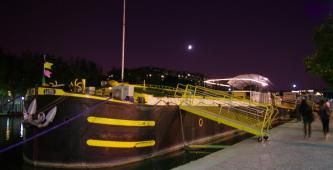 The Anako barge is a rendezvous for world culture enthusiasts. It welcomes you all year round at Bassin de La Villette.
It spreads an encouraging message of peace between people and bears the name of one of the  last twelve survivors of a great Amazonian tribe.
All year round, this committed barge organizes concerts, storytelling for children and adults, activities and all kinds of workshops with the same message : sharing convivial and activist moments for cultural diversity. Every month a region in the world is put in the spotlight. Anako celebrates its culture, its music, its art and its beautiful stories. At Aulnay, on the occasion of the summer festival « l'Eté du canal », it becomes a real entertainment pole on the waterfront. The program features, beginner demonstrations in gym and different styles of dance, concerts, storytelling as well as exhibitions, etc.
This year, the barge comes your way sailing along Canal de l'Ourcq !
Anako will stop at :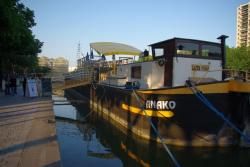 Pantin from July 24th to August 31st  2015
The bar welcomes you in the afternoons for a relaxing time with family, or an afterwork moment with colleagues or an evening with friends…
Aulnay-sous-bois July 4th to 18th 2015
"Restock Anako"- ephemeral summer time snack – set up along the canal de l'Ourcq while Bellastock mount their constructions and tasty little dishes are prepared by Anako. Bellastock is an architectural association working for the valorization of territories and their resources by offering alternatives involved in the construction work process.
Anako openig hours at Aulnay-sous-Bois
Every day in summer from Saturday, July 4th to Saturday July 18th from 2 p.m. to 6p.m. and until 10 p.m. for concerts and balls. (Closed on July, 6th, 13th and 14th, 2015)
Registration for workshops:
July: Saturday 4th and from Tuesday 7th to Sunday 12th, from Wednesday 15th to Friday17th : 2 p.m. to 6 p.m. on the barge Anako.
Information available at the department of culture in the town at: 01.48.79.63.74
The Hydroplane barge will be present at Pantin from August, 1st to 16th, 2015, in front of the kindergarten school « la marine » at 13-15, Quai de l'Ourcq.
Practical information - Anako barge
Take the fluvial shuttles for 1¤ or 2¤ during l'Été du Canal festival to get to the barge Anako!
For more details and information, take a look at the website of péniche Anako
More fun barges
Anyone can have fun thanks to all the different barges of North-East Paris: the Antipode, the Grande Fantaisie, the Chat qui pêche, the Barboteur, the Cinema barge and the Library barge.