The barge Antipode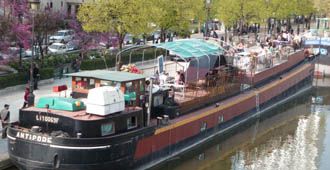 Many shows, concerts... on board Antipode Café
Moored all year round at Bassin de La Villette, the Antipode barge will take part in the summer event Été du canal in Seine-Saint-Denis!
This summer, the barge Antipode, will be at Pantin, ready to offer a cargo of concerts, festivals and activities to anyone in quest of fun without spending a penny.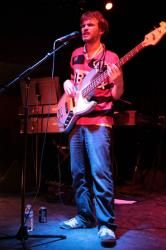 Concerts, shows, evening games, dance… this summer, the barge Antipode will make waves on the banks of the canal de l'Ourcq! 
At the helm of the barge Antipode is the theater company Abricadabra : all year round, it adds magic, music and poetry to your afternoons and evenings ideal for family and friends!
Check it out at Bassin de La Villette, where it satisfies the curiosity of small and big : theater shows, dance, magic tales and music… You will find all ingredients for a great time mixing culture and conviviality on the banks of the canal!
The barge will moor again at Bassin de la Villette in September ! In the meantime, rendez-vous in Seine-Saint-Denis!
Discover also the bar on the barge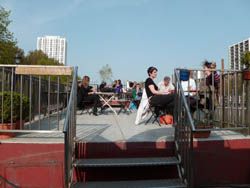 Fair trade drinks are available on the barge Antipode: coffee and its famous baguette toasts Tostadas.
Antipode Café proposes home-made products, a fair trade solidarity.
Practical information
More information about the Antipode barge
Open on weekdays and weekends
It is possible to lunch on the terrace
You want more?
You love barges and having fun at the same time? Check the Grande Fantaisie, the Chat qui pêche, the Barboteur, the Anako, the Library and the Cinema barge.