The barge Grande Fantaisie is moored at 9 quai de l'Oise since July 2014, on Canal de l'Ourcq near Bassin La Villette Paris. Built in 1931, Grande Fantaisie is a gem of fluvial Art Deco heritage. The barge features a terrace and a room in the boat's hold for evening parties and shows, each with a refreshment bar and snacks and light meals.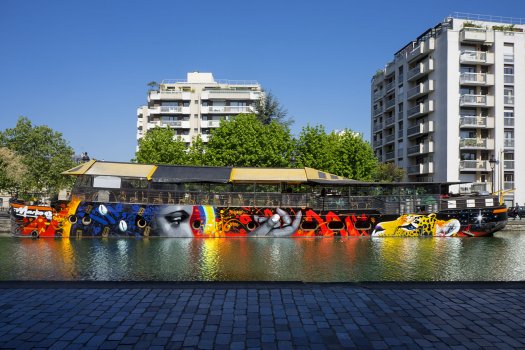 Fresco by Marko93 for Été du canal 2018
An associative cultural barge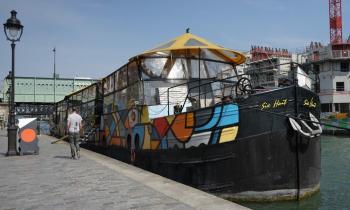 The barge Grande Fantaisie is a cultural associative barge which reflects the spirit of cultural openness well established in the 19th district.
Directed by Jérôme Lafay and Nourdine Oumeddour, the founders of the association "19th Parallèle", it is driven by a team of artists including some volunteers.
There you'll find an artistic and cultural programme  around graphic and contemporary expression (photo, BD, illustration, street-art, theatre, performances, residences, tales and dance) that favours live, discussions, contact and forms of experimentation.
An influence hub
Grande Fantaisie is a federative venue which unites and associates artists,  locals of all ages and from all backgrounds, tourists, Sunday afternoon strollers, residents, neighbourhood children, societal actors, holders of good news or new projects around artistic creation.  
It hosts dance or drawing workshops with the local schools, organises free dance balls each month for seniors living in relative isolation, coproduces projects with local associations, welcomes and creates groups with a view to integration…
A warm and friendly café-restaurant on the Ourcq
Grande Fantaisie is a floating open space public hub, a casual and fun place, where one can simply enjoy a drink or have a bite at affordable prices (musical brunch during week-ends, a lunch menu for 12¤50) or just to meet friends, play ping-pong in the boat hold or sunbathe on the deck.
Grande Fantaisie proposes an eclectic programme axed around emerging young creations all year long.
Acoustics concerts, theatres and tales for adults and children, contemporary dances, exhibitions  and encounters with photographers, graffiti artists, comic book writers... but also themed weeks, like the one about "We are migrants" which grouped many different actors such as sociologists, associations or locals.
Agenda of Grande Fantaisie lined-up
Every Sunday from January to December (except in August and September) from 2 pm to 6 pm: the Thé Dansant for  seniors is organised inside the boathouse! From tango to disco remix including music by zouk and rock, DJ Blues Party Soundkilla sets the rhythm in line with the public's mood. Anyone (of all age) can have fun there. Dancers take over the dancefloor in a relaxed and fantasy-filled atmosphere. As music is contagious, it is not unusual that upper deck consumers mingle with the dancers!
Admission is free, and  mint tea is offered.
Each week-end a musical brunch is proposed on the barge (fado, jazz...)
Join the Facebook page of Grande Fantaisie for all news and contact by mail the Grande Fantaisie.
You love having fun on barges?
Don't miss the other barges that the Parisian North-East has to offer: The Antipode, the Chat qui pêche, the Anako, the Barboteur, the Cinema or the Library barge.