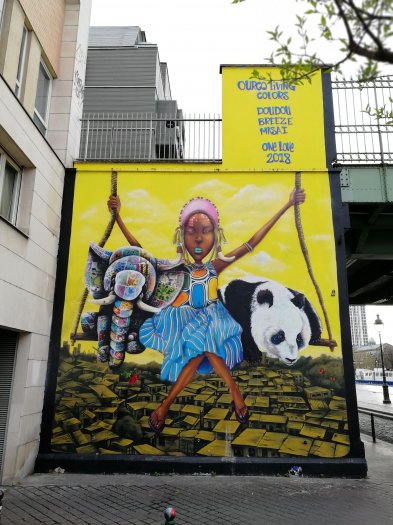 For three decades, the canal de l'Ourcq has constituted an urban art heritage which has become a reference in street art and a not to be missed place of pilgrimage for urban art fans. Recent operations which are carried as part of the Eté du Canal festival expand and increase the value of Canal de L'Ourcq and its exceptional heritage: a Graff cathedral in 2012, the operation Inside Out by street artist JR in 2013 or even Art à l'Ourcq in 2014...
In 2018, the Ourcq summer festival Été du Canal associated with the famous Harcourt Paris Studios to create a street-art path called p'(H)arcourt.
Of varying size and scale, these artistic works are scattered all along the banks and surprise the casual walker at a street corner or at the intersection of a bridge…
Following the history of art and evolution changes of the territory, the project street art is intrinsically linked to the environment in which it is located, the artworks stretch out over 10 km along the banks, around the Rotonde at Stalingrad in the 19th arrondissement of Paris at Aulnay-sous-Bois.
Street art along canal de l'Ourcq on foot, bicycle, or by boat...
You can discover the artwork creations by street-artists in the north-east of Paris along Canal de l'Ourcq, from Paris (place Stalingrad - Paris 19e) to Aulnay-sous-Bois (93).
On foot: Ramble along the banks of the Ourcq canal. The canal can be easily reached thanks to the Paris public transport system (metro line 5, RER E Mairie de Pantin).
By bicycle: An entire tarmacked bike path all along the Canal. Starting from Paris, you must count for about 10 km from Paris to Aulnay-sous-Bois, 7 km from Paris to Bobigny and 4 km from Paris to Pantin.
Bike rental: AICV - Paris 19th
By boat: The river shuttles during the été du Canal festival operate on Ourcq Canal during summer. For an additional discovery of the waterways you can also opt for small electric boats with the Marin d'eau Douce Company. Licence-free, they are very easy to manouver, they are silent and odourless.
Street art guided tours
Guided street art tours by street artists are proposed all year long. Thom Thom will present all the artwork creations along the banks, will talk about the artists, the history of street art, the technics used...
Book your Street art tour in Paris
Street artists