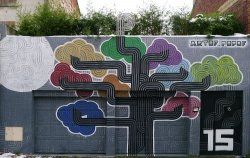 An urban artist painter from Montreuil, Artof Popof has been, since 1989, part of the Graffiti movement which was the new rising movement in France. Alone or in association with other graffiti-artists, he has painted large mural frescoes in Paris, New York, Delhi and many other towns.
He sometimes collaborates with Marko93 and Da Cruz under the name PoDaMa, a collective group that had notably carried out the graffiti art work project: EDIFICE, graffiti artwork on the former customs building in Pantin in 2012.
In the street or in his workshop, he mixes different techniques, painting with brush or with an aerosol spray, and works out his own style.
His trademark - the letters of his name, which stretch out to form 5 parallel lines that interweave and overlap, These furrows are to quickly become his graphic signature, He transposes the lights and city fabric with his painting, A bridge between private and collective life, the art of Popof questions the relationship the human being has with urban living, Between graffiti, portraits, architecture, texts and textures.