You are looking for a free, impartial advice and a full venue finding service in North-East Paris ? Those pages are for you.
Thanks to our knowledge of venues, providers and latest news of the MICE industry in our territory, our team will be delighted to put its expertise at the service of your project.
Strategically located in the heart of a major international crossroads, between downtown Paris and Roissy-Charles de Gaulle airport, North-East Paris has a recognized experience in hosting events. With two of the largest conference and exhibition centers in Europe and a wide range of venues and hotels, the dazzling and in constant reinvention area of the Paris Region owns all the assets to make your event a success.
Looking for a venue, a hotel, a leisure activity or a service provider, contact us to receive personalized advice. You can also send us your conference/corporate event RFP, and we will be in touch with a proposal.
Flavie MARIE - In charge of Trade Tourism
+33 1 49 15 90 82 / f.marie@tourisme93.com
Examples of remarkable venues in North-East Paris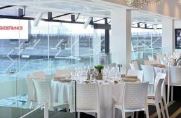 The Stade de France
 A legendary venue which hosts major sporting and corporate events  (seminars, team-buildings, gala parties) from 10 to 1,000 people in its  entire range of reception venues.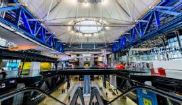 The Cité des sciences et de l'industrie convention center
Besides its vocation to communicate the pleasure of understanding science, the museum is also a genuine communication tool for organizers of congresses and corporate events, up to 1,000 people.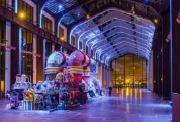 The Cité du cinéma
Real crossroads of the European cinematographic industry incited by Luc Besson, it welcomes companies to plan events in this prestigious architecture.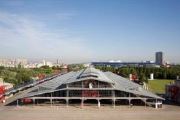 Parc et Grande Halle de la Villette
Exceptional heritage building, the "Grande Halle" is situated in one of the the largest parks in Paris. It offers about 18,000m² modular spaces to host outstanding corporate events, trade shows and fairs and convention and evening parties up to 10,000 people.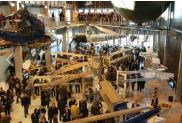 Air and space museum
It is one of the first museums showcasing aviation culture in the world. Beyond its major cultural aspects, it provides an unparalleled versatile and original venue for organizers of big or smaller scale events.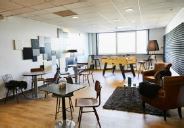 Venues of Châteauform' group
With its "you are at home" concept, the group owns several sites in North-East Paris, such as Les Docks de Paris or Châteauform' College Histoire de La Chapelle. Friendliness, simplicity, generosity, flexibility and nature have the place of honour for business events.
You can also check the Villepinte and the Bourget exhibition centers where trade fairs are often organized.
Accommodation:
If you are looking for a venue that also proposes a hotel service, check the 4-star Novotel Paris Est 4 stars hotel with meeting rooms.
Don't miss hotels close to the Charles-de-Gaulle airport.