I. A strategic location at the heart of Europe
Strategically located in the heart of a major international crossroads, Northeastern Paris is served by two international airports: Paris-Le Bourget, first European airport for business aviation, and Roissy-Charles de Gaulle, first French airport for international travelers. The Gare de l'Est (Eastern train station) and the Gare du Nord (Northern train station), thanks to services operated by Thalys and Eurostar, allows daily connections by high-speed trains from Northern and Eastern Europe. Moreover, its significant motorway network (A1/A86/A3/A4) connects it to the main developed areas of the continent.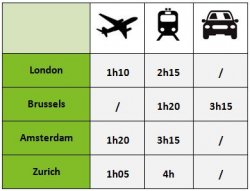 Linked to the Parisian urban transport network, the territory counts 71 metro stations, 35 RER (regional express network stations) stations and a high number of tramway and buses lines.
II. A recognized experience in hosting events
From a 10-person meeting to major international events, Northeastern Paris has a strong knowledge regarding the hosting of all kinds of corporate events.
For instance, Le Bourget exhibition center welcomes every two years the International Paris Air Show, which attracts around 180,000 general public visitors, 142,000 professional visitors and more than 2,300 exhibitors from 50 countries.
III. A wide variety of accommodation facilities
Northeastern Paris counts 211 hotels that represent more than 26,600 bedrooms, distributed as follows :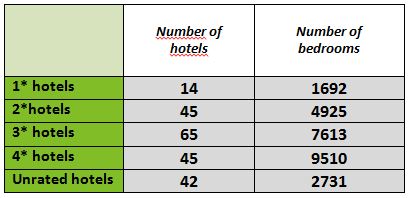 If standard chain hotels are higly represented (four-stars Novotel or Mercure for instance), independant hotels and other chains with atypical offers are well established on the territory (Mob Hotel, Mama Shelter...).
Among all these hotels, 73 can also offer meeting rooms. For instance, the biggest one is the Novotel Paris Est, with its 609 bedrooms ans 2,5000m˛ dedicated to professionnal events.
IV. A large choice of event venues
Unlike the center of Paris where surfaces are relatively small due to a dense urbanization, Northeastearn Paris has still available spaces to offers, which allows the building of large infrastructure. For this reason, the territory has welcomed not only the biggest exhibition centre in Europe : Paris Nord Villepinte, but also Paris Le Bourget convention and exhibition centre, and the famous Stade de France.
Besides, rich in its industrial past, it offers old rehabilited factories (such as L'Usine), museums about the history of aviation (Air and Space Museum) and mythical warehouses reconverted into large meeting centers (such as Les Docks de Paris).
Moreover, two canals (Canal de l'Ourcq and Canal Saint-Denis) bring water accross the territory. Their banks, urban ecosystems and yep relaxing, offer ideal spaces  for inspiring meetings, in venues such as La Rotonde and Dock B.
At last, there are 70 hotels with meeting rooms, such as the Novotel Paris Est or the Holiday Inn Express Paris - Canal de La Villette.