Canal Saint Denis flows about 6.6 km through Paris 19th district within proximity of Park de la Villette and links up with several of the Parisian navigable connections at the waterways roundabout at Paris Bassin de la Villette. It joins the Seine River at the level of L'Ile Saint Denis and it runs through the towns of Saint Denis and Aubervilliers in the Seine Saint Denis territory. The city of Paris has property rights on Canal Saint Denis which is managed by the Parisian Channel network – a public waterways works authority operated by the town hall of Paris.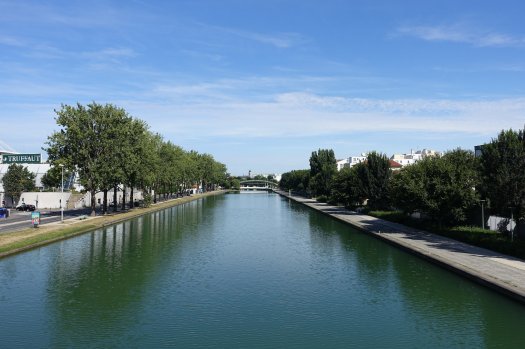 Canal Saint-Denis © Guilhem Vellut
History of Canal Saint Denis
As the city of Paris owns and maintains the river and waterways network, and just like Canal de l'Ourcq, an official law decree was issued in reference of this law – 29 Floréal year X (19th may 1802) – by Napoleon Bonaparte for Parisian waterways construction. All operations for Canal Saint Denis construction works began in 1805 and were completed in 1821 for the beginning of commercial expansion through the canal.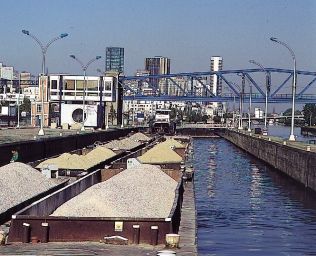 In 1890, the channel underwent important modifications and reconstruction to enable access to wider-beamed barges spanning a wider area through the Parisian waterways. Five years later, the channel was subsequently altered, but the numbers of locks were reduced from twelve locks at the beginning to seven in 1895. Rehabilitated, the first canal lock replacing four of the older locks is called Flandre Bridge locks "Ecluse du Pont de Flandre"). This new system is a major turning point that furthered an ingenuous approach to the logistical problem and the growing economic navigation improvements with a 28 metres level gain.
Opened all year long, Canal Saint Denis is still used for industrial purposes. Several corners of its banks welcome cargo ports for loading and unloading tons of materials and merchandise. The canal is also used to satisfy organizational strategies to carry ready-made construction materials to meet user requirements and also to evacuate the cities eyesore rubble. Freight cargo canal traffic fluctuated from 500.000 to 1 million tons of materials and merchandise, food and grain as well as buildings materials and other goods carried on canal boats.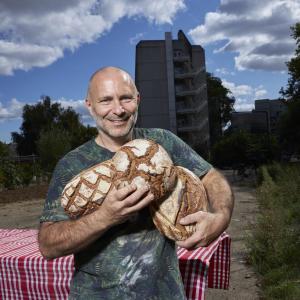 Discover on Guided tours and visits FR
Discover Canal Saint Denis
Along with the construction of Stade de France in 1998 and its landscaping project, Canal Saint Denis industrial vocation began to soar to give way to a direct impact on the tourism industry. It slowly began to become very popular for pleasure boating and its banks gradually became the ideal spot for pleasure family walks, biking and roller-skating. Due to the regional territorial development and historical scheme plan, an itinerary trail of twenty boundary markers with history and tourist information was set up within proximity of Stade de France. This leisure / historical path enables walkers to join the Basilica Gothic Cathedral of Saint Denis via the canal banks and boundary markers relating 2000 years of history.
Urban art on the banks
During summer 2016 and 2017, some artists designed frescoes and graffiti along the banks of canal Saint-Denis. About thirty artists collaborated on that project initiated by the tourist Office of Plaine Commune: Alexandra Arango, Astro, Joachim Romain, Julia Lopez, Jungle, Marko 93, Bastos, etc.
Their artworks are still visible at La Villette and Stade de France. It is possible to enjoy free tours of Street Art Avenue. Guided walking tours are available on certain dates.
Nearby the Canal Saint-Denis