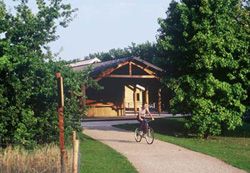 Ile-Saint-Denis is an insular town, an island on its own; it forms a crescent between two territories - Seine-Saint-Denis and Hauts-de-Seine. Its inhabitants are the Ilodionysians who live along the riverbanks where the atmosphere is lively and friendly.
The origin of its name comes from Latin "insula", island and Saint-Denis because of its proximity to the tomb of Saint Denis, the first bishop of Paris. The history of this insular town has been in the history books since the tenth century: A fortress was built by Charles le Chauve (the bald) on l'île du Châtelier to prevent the Normans from moving up the Seine river. Ile-Saint-Denis seems to be the only fluvial insular town in France. It is a unique example!
This small piece of land shaped like a large crescent opening west, joins the two territories of Seine-Saint-Denis and Hauts-de-Seine. According to Léandre Vaillat who wrote this about the city in 1937, the city is "like a sickle forgotten in the plain by a farmer that would disgust the industrial sector". Since then the situation has changed! More than seven or eight kilometers of banks with an average width of 150 meters and more than three bridges connect this island to firm ground. Its territory is basically divided into three parts: housing, regional park and in particular, business activity zones with the commercial centre Marques Avenue.
Old major fluvial port
These attributes show that Ile-Saint-Denis has kept a "village-like" atmosphere in the midst of an industrialized suburb. Many men and women worked for inland water shipping giving a specific character to the town which was once a fluvial port.
During the city tour, you will see the Town hall marriage-ceremony room, the fresco "l'Eternelle chanson" by Alphonse Osbert (1857-1932), a painter from the Puvis-de-Chavannes school of symbolism, the "Place du Bocage" and its fountain (1873), the church with a curious painting representing two adjoining churches before their demolition in the year 1884, a beautiful railway bridge crossing Epinay and overlooking the park and mobile sculptures signed Monique Arradon - "ducs d'Albe", steel stakes where barges are moored, the former cement works called Poliet-et-Chausson  and its remarkable silos structure today transformed into offices.
Ile Saint-Denis is home to many notable cultural attractions: Jean Vilar Centre, cinema, theater, music school, exhibitions, a rich and active municipal library. The "Promenade des Impressionnistes" of Ile-Saint-Denis – painted by Alfred Sisley -, exclusively for pedestrians, borders the Seine and leads to the magnificent Ile-Saint-Denis park. Admire the boatman's Saint-Pierre church.
Ile-Saint-Denis is part of "Plaine Commune greater metropolitan area".
Check out the PR1 walk that goes through the island.
Practical information in Ile Saint-Denis