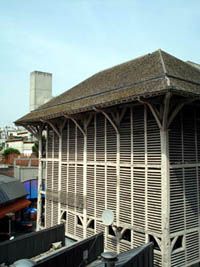 For a long time Seine Saint Denis was a rural area and managed to preserve many of its older sites, as can be seen in "Le patrimoine au quotidien". Regarding industrial heritage, only the maison des arbalétriers in Saint-Denis, is evidence of the beginnings of an industrial heritage in the eighteenth century. Real industrialization in Seine-Saint-Denis took place during two major periods in the following centuries.
The first from 1840 to 1890 remained closely linked to the essential role of the canal de Saint-Denis and of the canal de l'Ourcq, and then to the development of the industrial rail network in La Plaine-Saint-Denis. Even though, during that period, almost all activities were present, the chemical industry Saint-Gobain in Aubervilliers and the metallurgy company - PSA Peugeot-Citroën at Saint-Ouen dominated the sector. Other companies remain iconic such as Christofle in Saint-Denis or Manufacture des Allumettes in Aubervilliers. That period also appeared as one where storage function, the Magasins généraux de la Plaine-Saint-Denis, answered to this functional organization associating canal and railway.
Once the depression was over in the years 1860-1890, a second wave of industrialization began and lasted till 1940. The development of the railway network infrastructure in the North and East was a decisive factor in the implantation of big factories of metallurgy and mechanics. It was in 1907 that Johnson establishments set up in la Courneuve, manufacturer of machine tools to make shoes, Mecano factory in La Courneuve or Grands Moulins de Pantin.
During the industrial era, architecture played an important role. Some architects were specialists in this type of construction such as Jules Saulnier, general contractor for several of the buildings in the Meunier chocolate factory in Noisel, and who was also involved in the construction of the Central Pharmacy Saint-Denis. On the other hand, buildings became the symbol of the use of certain materials, such as brick with the old printing house L'Illustration in Bobigny, or with the typical shape of a factory, such as the vaulted roof or saw-tooth roofs of the Alcohol Docks in Saint Denis.
List of main remarkable sites in Seine-Saint-Denis:
Early stages
A crossbowman House in Saint-Denis (1772)
The essential role of Canal de Saint-Denis and Canal de Ourcq in the industrialization of Seine-Saint-Denis (1825)
PSA Peugeot-Citroën in Saint-Ouen (1840-1860)
First wave of industrialization: 1860-1872
Bassin de La Villette (1863)
Slaughter-houses at La Villette (1865)
High factory chimney, the symbol of the working-class suburbs
Christofle in Saint-Denis (1865)
Powder House (1865) and Sevran Forest Park
Magasins Généraux in Plaine-Saint-Denis (1866)
Former central Pharmacy of France in Saint-Denis (1867)
The "Rotonde" by Ledoux (1868)
Former Pernod factory in lower-Montreuil (1872)
Former matchstick factory in Aubervilliers (1872 restored in 1902)
Former tobacco factory in Pantin (1876)
Second wave of industrialization: 1890-1940
Saint-Gobain factory in Aubervilliers (1880)
Industrial railway network in Plaine-Saint-Denis (1886)
House of Piver in Aubervilliers (1888)
Babcock and Wilcox in la Courneuve (1898)
Elis Laundry in Pantin (1900)
Power plant station in Saint-Denis II (1903)
Louis furniture manufacture in Pantin (1907)
Former Johnson establishments in la Courneuve (1907)
Eclair studios in Epinay-sur-Seine (1907)
Former Mécano factory in la Courneuve (1914)
Bourget International Airport (1914)
Grands Moulins Pantin (1920)
Rehabilitation of the Alcohol docks in Saint-Denis (entre 1925 et 1930)
Former Chamber of Commerce and Industry in Pantin (1929)
The Ancient Printing company l'Illustration at Bobigny (1931)
Water plant (1935) and swimming pool (1937) Pantin
Contemporary period: Tomorrow's heritage
SYCTOM in Saint-Ouen (1985) and Romainville (1993)             
L'Oréal in Aulnay-sous-Bois (1991)