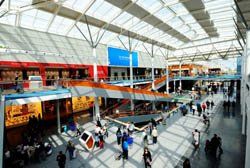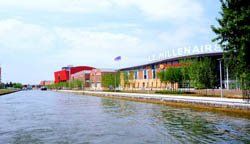 Le Millénaire mall at Aubervilliers, is located a stone's throw from Paris. 140 shops and restaurants near Porte d'Aubervilliers for a real change of scenery. Le Millénaire offers entertainment for children during school holidays, during your shopping spree... 7 days a week.
By car or motorbike, the underground car park has free easy access for three hours on weekdays and all day long on Saturday. Come for your shopping or just spend a convivial moment in a restaurant along the canal. Just perfect for summer days!
How to get to Millénaire mall by public transport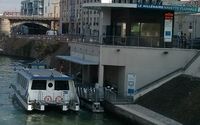 Here "shopping on the banks of the canal" is brought to you via the free river shuttle service on Canal Saint-Denis giving you access to the shopping center from the Corentin Cariou station (metro line 7 and tramway lineT3b).
To get to the river shuttle from the metro station, cross the bridge. Go down to "Quai de la Charente" where shuttles depart every ten minutes. The trip takes about 6 to 7 minutes.
Le Millénaire mall is also accessible by bus. If you are arriving by car, a car park with 2, 800 parking spots is available for free three hours.
Opening of Le Millénaire mall on Sundays
Le Millénaire shopping mall is open every day from Monday to Sunday. Discover various brands that are still little known in France but also other well- known brands such as H&M, Zara, Boulanger, Toys'R'Us… Enjoy also exclusive services dedicated to visitors and weekend entertainment at week-ends. Carrefour supermarket remains closed on Sundays but stays open on the first Sunday of the winter and summer sales and also each Sunday in December for Christmas shopping…
Opening hours
From Monday to Staurday: from 10 a.m. to 8 p.m.
On Sunday: from 10 a.m. to 7 p.m.
Carrefour supermarket is open from Monday to Saturday, from 9 a.m. to 9 p.m.
The restaurants remain open from Monday to Sunday until 11 p.m.
From the Millénaire you can easily access the Parks mall thanks to a footbridge.
More shopping centers
Check all the other shopping centers of the area: Arcade, Bel Est Gallieni, Vill'Up, Aéroville, Domus, O'Parinor, Rosny 2, Marques Avenue, Usine Center Paris Nord 2.