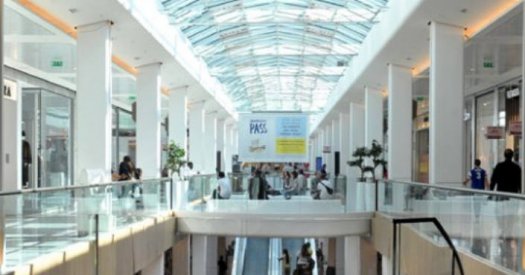 Constructed in 1973, "Rosny 2" is one of the first biggest malls in the East of Paris. It is open every day from 10: am to 8: pm.
Rosny 2 - Westfield : from Fnac to Galeries Lafayette
The mall Rosny 2 features many shops and boutiques, shopping for clothes, jewellery, electrical goods, shoes, telephones, lingerie, game and joys, opticians, tickets for show at the mall as well as Les Galeries Lafayette, mythical boutiques for every budget. Rosny2 makes a big deal of major events during the year, they organize activities for children (Easter, Christmas...) and put up special decorations to the delight of customers. Rosny 2 shines brightly during all festivals and celebrations to everyone's enjoyment.
Free and unlimited Wifi, children stroller rental, children's play area... Access is easy for all the family and everyone can find what they are looking for thanks to the different options on offer in the mall : services, boutiques, restaurants.
A shopping mall close to the highway and the RER
Recently renovated, Rosny2 bathes in bright daylight with an immense car park, thus allowing to welcome even more customers , closer to the main roads (A3 et A86) and public transport by (RER line E with an exit at Rosny-Bois-Perrier and 8 bus lines). A car park with 6000 places including places reserved for mobility impaired people. (PMR), and places reserved for families. This car park in Rosny 2 has the advantage of having no time limit; no count-down tickets! So take your time shopping and looking around. Autolib' is located next to the cinema!
Rosny 2 – open on Sundays !
The mall Rosny 2 - Westfield is open every Sunday. Not only in the month of December and Christmas, or the first Sunday of summer or winter sales but open every Sunday. Anyway, here you can find a new mall open 7 days a week in Ile-de-France.
Opening hours weekdays, Saturdays and Sundays
The restaurants are open all day and evening after 9 o'clock (even on Sundays). You can subsequently opt for a film at the cinema UGC of Rosny located close to the mall; it is situated across the street, you just have to cross the road! A movie and dining out; the perfect outing for friends and family.
Related :