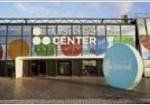 Usines Center Paris Nord 2, non-expensive fashion
The aim of Usines Center is to offer last year's collection with significant price reductions compared to the original. Fashion certainly changes a lot but you also have items that never seem to go out of fashion at a low price. For sure, among the 300 brands in the various shops, you will surely find your long awaited object for good value.
Here are some of the brands you will find: Caroll, Benetton, Aigle, Desigual, Diesel, Hello Kitty, Kaporal, le Temps des Cerises, Orchestra, Pepe Jean, Cristal d'Arques, Guy Degrenne, Villeroy, Pyrex, Nike, etc.
Fast food, activities and boutiques Usines Center
Feeling a bit peckish? Snacks "for a hot meal on the go" are available in the mall, you will also find Quick and Mc Donald's fast food restaurants.
Activities, workshops related to recent news events are regularly set up for children or adults. Want to buy something else ? Big brands name such as Ikea, Castorama, Go Sport are also located at Paris Nord 2!
October 2016: Swedish furniture took off successfully. Indeed, IKEA Paris Nord 2 became, after 2 years of construction work, one of the largest department stores in France. Innovation: creation of a greenhouse for plants and garden space, expansion of the store, creation of new "living space show rooms" to give you some ideas on how to set up your living space.
Usines Center Paris Nord 2 opens 7 days a week from Monday to Sunday
The shops are open from Monday to Friday, from 10:00 a.m. to 7:00 p.m. and week-ends from 10:00 a.m. to 8:00 p.m. (Saturday and Sunday).
Closure of Usines Center Paris Outlet - Paris Nord 2 – January 1st, May 1st and Christmas Day.
Access and parking Usines Center
An outdoor carpark with 1, 400 places and an underground carpark with 300 places help to take the stress out of your shopping spree (the mall is on one level only). Parking spaces for people with reduce mobility can be found in both carparks with a lift to get to the carparks inside Usines Center.
Easy access : Usines Center is served by RER line B and bus 640 (at the RER station) or by car via the highway A1and A104 - exit Paris Nord 2 or ZI Parc des expositions de Villepinte.
More shopping
Check all the other shopping centers of the area: Marques Avenue, Rosny 2, O'Parinor, Domus, Aéroville, Vill'Up, the Millénaire, Bel Est Gallieni, Arcades...