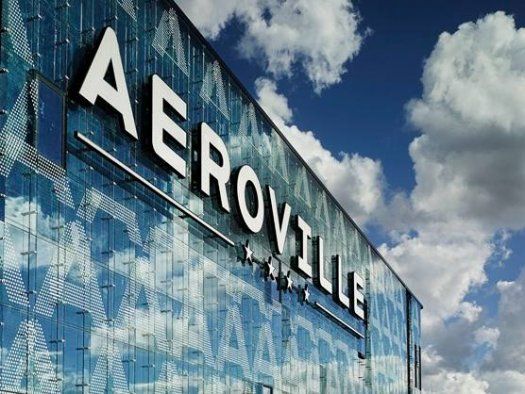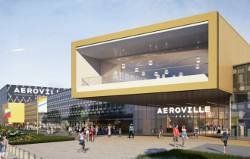 Aéroville, open since October 16th 2013, has obtained the 4-star label! This shopping center is located in the district of Tremblay-en-France and Roissy-en-France near the CDG international airport. It is located on one level and includes a brand name general store for your grocery shopping, various boutiques: from culture to shopping (fashion for men, women and children), furniture, household appliances, pressing, fitness... There is a pedestrian entrance at 30 rue des buissons. A bike parking is avalable and a car park with 4,700 parking spots with a guidance system to get a free parking space quickly.
Cinema and restaurants 7 days a week
A selection of restaurants and the Pathé Cinema complex with 12 movie theaters are also open everyday from 10 a.m to 1 a.m, with a movie program every 10 min. Choose your movie and theater to enjoy the different levels of comfort with the different seat sizes: amazing!
Cinema Europacorp is open every day from 10 a.m. to 1 a.m.
Aéroville opening days: boutiques open from Monday to Sunday
The boutiques in the Aéroville mall are open from Monday to Sunday from 10 a.m. to 8 p.m..
Cafés, bars and restaurants in the Terminal are open from 10 a.m. to midnight – The restaurants which are located outside of the Terminal close at 8 p.m.
The Auchan supermarket at Aéroville is open from 9 a.m. to 9 p.m. from Monday to Saturday and also on Sunday from 10 a.m. to 8 p.m.
Children and babies area in the Aéroville shopping center
Children from 4 to 10 years old are welcome for a playful and creative workshops supervised by specialized activity team leaders. The Aéro Kids area which is located in the Zone Africa Lodge on Level 0 is an invitation for a little break and will be perfect for your children to let off steam (closing time: mid-July to mid-August). Open on Saturday and Sunday from 2:30 p.m. to 6:30 p.m..
Coloring books, small toys and cuddly comfor toys will be available at reception desk or at the Terminal Cook reception desk ; a "baby area" is located near the toilet to pamper your baby.
Many other services are available at Aéroville: WiFi, battery recharge services for your mobile phone, resting spaces...
Stay tuned, battery recharges for your mobile phone are available at the reception desk or at the Conciergerie without forgetting free and illimited WI-FI. Cosy resting areas are available all along your shopping trip.
A drop-off area is available at the Parking Terminal Cook P7.
For your security, take a minute to check and re-inflate your tires at parking P1 at the Africa Lodge zone.
Car parks Aéroville: 5 hours of free parking
Car parks PMR are located near the entrance to the center, 76 places are specially reserved for people with reduced mobility. They are recognizable by the blue logo painted on the ground. Parking 2 roues: many bike parking places are located near each entrance of the mall Aéroville.
Parking for families: 38 parking places for "families" which are larger to enable kids to get safely out of the car without being obstructed by other vehicules. They are recognizable by a logo.
Parking for electric vehicules: 14 places equipped with recharge stations are located in proximity of Nordic Chic and Terminal Cook.
Buses are available at Aéroville and CDG
A shuttle is available to join Paris CDG airport and Aéroville: ideal solution for your transit at Roissy airport - go shopping at the mall Aéroville.
A shuttle goes from Roissypôle to the mall at Aéroville
This service is available everyday from noon to 10 p.m. The shuttle for Roissypôle leaves from rue de Dublin (near the hotel shuttle station).
Buses from Roissy CDG airport to the mall Aéroville
To get to Aéroville mall, a free shuttle picks you up at Roissypôle Terminal 3 – stop at RER B: CDG 1 airport. Bus 23, 32, 39, 43, 100, 349, 350, 351, T'Bus or Filéo.