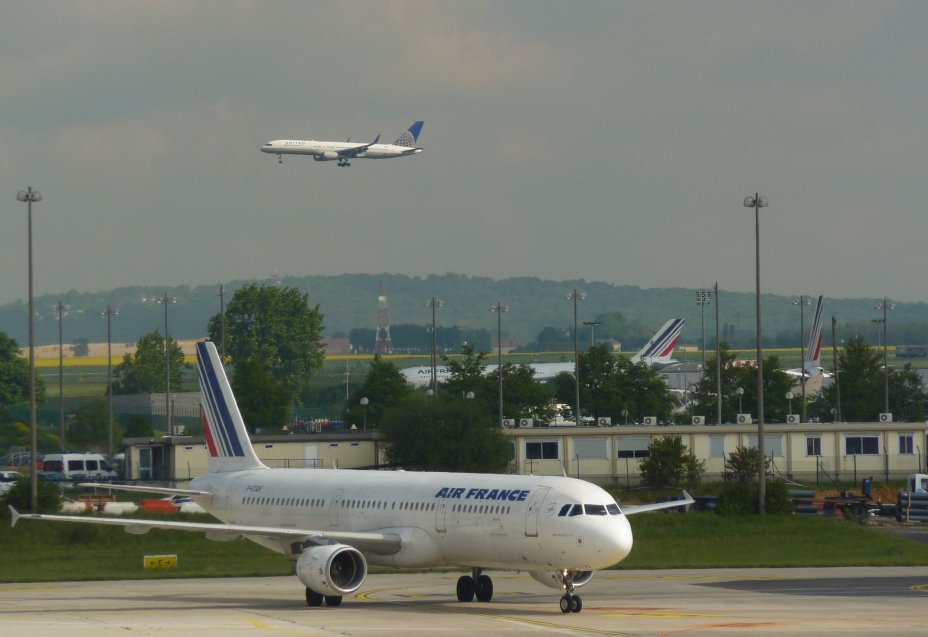 Paris-Roissy Charles de Gaulle airport is located about 23 km (14 miles) to the North East of Paris. CDG is the first and one of the largest French international airports and second largest European platform in terms of passenger traffic after London Heathrow International Airport. It is a hub of 170 airline companies connecting more than 300 cities worldwide. It is thus the most efficient European airport with the highest number of interconnecting possibilities within a time range of two hours. The airport complex actually stretches out over three departments and covers the following regions: 95-Val d'Oise (Roissy-en-France, Épiais-lès-Louvres), 77-Seine-et-Marne (Mauregard, Le Mesnil-Amelot et Mitry-Mory) and 93-Seine-Saint-Denis (Tremblay-en-France)…
Roissy CDG international airport - 3 main terminals
Terminal 1 - Terminal 2 (2A, 2B, 2C, 2D, 2E, 2F, 2 G) - Terminal 3
Map of Roissy Charles de Gaulle Airport (pdf)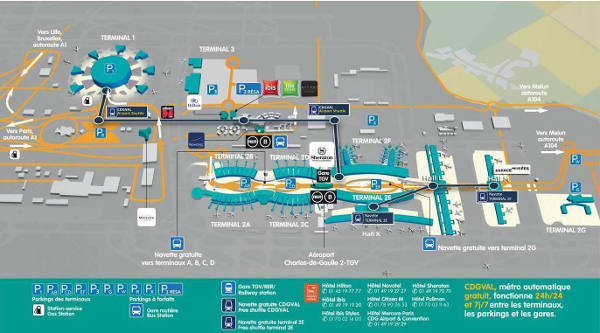 Access and parking lot at CDG airport

- By car motorway A1, A3, A104, RN2
Parking CDG airport – consult the map to locate the parking in your terminal.
Roissy CDG parking
P1: covered - P3 : outdoor - P3 booking: only on reservation
PG: outdoor, Premium service, access T2G
PR: outdoor, short-term and long-term parking, take the free shuttle CDGVAL
PAB: covered, long-term parking, access to T2A et T2B
PCD: covered, Premium service, access TGV station, T2C and T2D
PEF: covered, Premium service, access T2E and T2F
PX: outdoor, short-term and long-term parking, take the free shuttle CDGVAL
Public transport: Bus, RER and SNCF to CDG Airport
Roissypole bus station is located in the heart of the airport between the T1 and T3. It gives you access to long-distance coachs, Pairs region buses, etc.
>> Between now and 2025, numerous works will be carried out on line B of the RER. There will be weekends when access by RER will not be possible. Substitute buses will then be put in place. You should therefore plan more time and get information from the Aéroports de Paris website or on their social network account Twitter, website ratp.fr or transilien.com (the latter 2 indicate the transport routes in real time).<<
- By bus: Several bus lines connect Paris to Paris-CDG airport:
bus 350 - Porte de la Chapelle Paris (metro : line 12)
bus 351 - Nation Paris (RER A and metro line 2, line 6, line 9)
RATP Parisian buses: Several bus lines connect Paris to Paris-CDG airport and vice versa
> Bus 351 runs every day between Roissy-CDG and Paris-Nation (2 av du Trône). It takes about 2h. In Paris "Nation" you have access to the RER A, metro line 1, line 9, line 6 and line 2 during the day (closed at night between midnight and 5am).
> Bus 350 runs between Roissy CDG and Porte de la Chapelle (about 1h30). It gives you access to the Villepinte and Le Bourget exhibition centers and the Air Museum. At Porte de la Chapelle you have access to the metro line 12 and the T3b tramway.
For night journeis, take the Noctiliens 143 and 140 with a departure-terminus at Paris Gare de l'Est.

Roissybus-RATP – Departure Roissybus in the center of Paris at Opéra station (at the corner of rue Scribe et Auber) from 3h15 p.m. with a fifteen minute frequency daily, every 20 minutes from 8 p.m. to 10 p.m. and every 30mn beyond ten o'clock until the last shuttle at 0.30 a.m. (The navigo 1-5 zones is accepted on weekdays and all zones during the weekend covering Ile de France, there is no zone limit.)
What RER between Paris and Roissy CDG ?

RER B "Aéroport Charles de Gaulle 2 - TGV" station takes you to terminals T2. Important stations : parc Villepinte, Le Bourget exhibition park, Gare du Nord, Châtelet-les-Halles, Antony (to Orly airport)
Only one RER line: line B (direct line)
RER B station "Aéroport Charles de Gaulle 1" takes you to terminals 1 and 3.
RER B station "Aéroport Charles de Gaulle 2 - TGV" takes you to terminals T2A, T2B, T2C, T2D, T2E, T2F, T2G. Terminal T2G is linked to terminal T2F by the N2 shuttle.

High speed train station- SNCF at Paris-Charles de Gaulle airport is located between terminals 2C-2D et 2E-2F - "Aéroport Charles de Gaulle 2 - TGV" Station.
Preparing your journey from CDG airport
Before leaving, don't forget to check the information about your luggage: regulations on products forbidden in the hold and in the cabin, weight and size of suitcases, luggage storage, etc.
The Bagages du Monde locker is located in Terminal 2 - TGV RER station. It is open every day from 6am to 9:30pm
Booking a hotel near CDG airport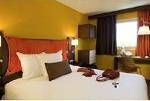 Several accommodation options are available near the airport. Opt for a hotel in the proximity of the airport or sleep in a hotel close to RER B station (which links the Paris Nord 2 business center, Parc d'exposition de Villepinte). Line RER B serves the three terminals of Roissy Charles-de-Gaulle. Book your accommodation around Gare du Nord which is very convenient also as the RER towards CDG is direct from Gare du Nord (20 minutes). There is also the option of staying in a hotel close to the A1 or in accommodation in the proximity of A3 motorway.
Tourist information board in the airport terminals
For visitors who need information on public transport in Paris- Ile de France, schedules and shuttle time between Paris-Charles de Gaulle airport and the nearby hotels and residences or the center of Paris, visit the tourist information board in the different terminals at the airport Paris Charles de Gaulle. Tourism information will inform you of the different events, news and major attractions to help you make the most of your stay and visitors will also be able to buy transport tickets at the tourist board…
Get more information about luggage regulations.
What to do in the airport to pass the time?
While waiting for your plane in CDG there is a choice of interactive playing spaces for children. There are also other activities such as games, light therapy and massage and multimedia kiosks, tax-free boutiques for all kinds of shopping and even a prayer-room…
Since late December 2013, a relaxation area devoted to digital books has been set up in the departure lounge of terminal 2G in Roissy CDG. This free service allows passengers to read the national and foreign press and a varied selection of books.

The airport provides assistance to people with reduced mobility, or other forms of disability.