The history of CDG international airport is an integral part of its first terminal, T1. Terminal 1 at Paris Charles de Gaulle international airport opened in 1974. Today, it welcomes over more than ten million passengers each year and features a multitude of services.
You can book a hotel close to T1 for day or night during your stopover at Charles de Gaulle airport. Discover all services and practical information around Roissy Charles-de-Gaulle airport.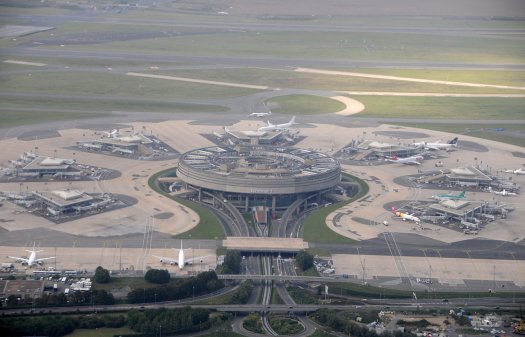 « Terminal1 CDGParisAirport » par Citizen59 — Travail personnel. Sous licence CC BY 3.0 via Wikimedia Commons.
Construction and opening of T1 at CDG International airport
Terminal 1 was the first element to be built on the site of the international airport CDG. It has since undergone several renovations. It was inaugurated on 8th March 1974 by the then Prime Minister Pierre Messmer.
Its construction was decided in 1964 following the decision by the French Council of Ministers to build a second airport near Paris after Orly airport. The plans for Terminal 1 were designed by a French architect Paul Andreu and construction work began four year later on the Roissy site which is located about twenty five kilometers to the north of Paris.
On 13th March 1974, at six o'clock in the morning, the first commercial flight landed on the tarmac of CDG : it was a Boeing 747 TWA airlines flying from NYC.
Once up and running, Air France settled here with its legendary aircrafts: the Boeing 747 in 1974 and Concorde in 1976 (both can be visited at the Air and Space museum in Le Bourget).
T1, a futurist architecture
Roissy airport was, at that time, ahead of its time with its automated baggage transport system from the aircraft to the conveyor belt (obsolete for several years now as it was considered too slow) and its early twentieth century futurist architecture. It was given the nickname "Camembert" (name of a french cheese) because of its round shape. CDG was then the most modern airport in Europe and was able to develop thanks to its large surface area and its evolving concept that resulted in the development of other terminals.
Terminal 1 is characterized by its futuristic architecture. It is composed of a central circular element built on five levels dedicated to welcoming travelers. There are seven satellites with departure lounges on the 3rd level. Travelers move from level to level on escalators located in Plexiglas tubes.
Check-in areas 5 and 6, shops and restaurants and the CDGVAL station, the automated metro in Roissy airport,  are located on level CDGVAL. Check-in areas 1 to 4 as well as airline desks are located on the departures level. The Boarding zone welcomes passengers for all departure formalities, access to the boarding gates and Duty Free shops. Arrivals level is the zone for passenger arrival, car-rentals and taxi information desks. Blue, Red and Green levels make up the P1 parking. Consult Roissy airport terminal 1 map.