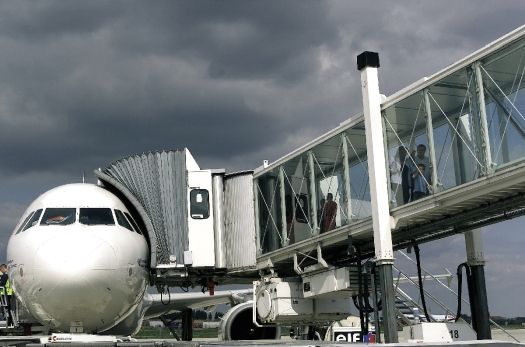 Located 14 km from Paris, Paris-Orly airport is mainly used for national and European flights well as for flights to Maghreb, Middle-East, French overseas departments and territories and Canada: Montreal and Quebec. Paris-Orly is the second airport hub in terms of passenger traffic in France after Paris-Charles de Gaulle airport and is also classified as the 10th busiest in Europe.
It is divided into two terminals: the South terminal and the West terminal (four halls). The airport has three runways and a cargo terminal as well as a maintenance area. Management of the airport is under the authority of Aéroports de Paris (ADP).
Since March 19th 2019, Orly South and Orly West changed names! They have been divided in 4 quarters:
Orly South becomes Orly 4
Orly West becomes Orly 1 and 2
The junction building becomes Orly 3
The car parks are also changing:
Orly 1 becomes the departure gates A and B
Orly 2 becomes departure gate C
Orly 4 becomes departure gate E and F
Map of Orly Airport (Download - format pdf)
Transports for Orly airport: car, bus, RER, and parking
Covered outdoor car park , free drop-off point (10 min max)
For a direct acces from the car park to Orly 1 and Orly 2: Car park P2 and drop-off areas 1 and 2
For a direct access from the car park to Orly 3: P3 car park and drop-off area 2
For a direct acess from the car park to Orly 4: P4a; P4b; P4c car parks and drop-off area 4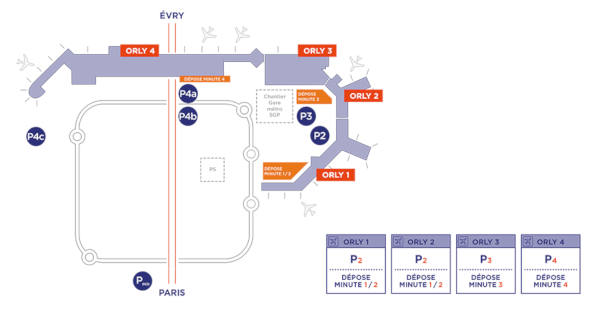 The car parks of ORLY Paris
Check the map of the airport to know which is the best place to park depending on your terminal.
P2 (ex T West car park): Open 7/7 and covered by security cameras
P3 (ex T West): Open 7/7 and covered by security cameras
P4a (ex T South/P1): Open 7/7 and covered by security cameras
P4b (ex T South/P3): Open 7/7 and covered by security cameras
P4c (ex T South)
Peco: outside car park (at 12 min of bus from the terminals) open 7/7 covered by security cameras
5 car parks have charging posts for electric vehicles
The free shuttle covers all car parks and all Orly terminals
Rent a car at Paris Orly airport
How to get to Orly Airport - public transport?
Public transport: RER B or C and bus

RER B get off at the station "Antony" (direction St Rémy-les-Chevreuses - B4: be careful to take direction B4). At Antony station, take the automatic metro ORLYVAL to Orly airport.
(Note : remember to buy a special ticket for this automatic metro ORLYVAL) - it takes thirty minutes from Antony station to Orly
from 6 am to 11 pm
ORLYVAL - free for children under 4 years old, half price for children between 4 and 10 years old.
If you need to reach terminal 1 from terminal 4 for example, the Orlyval is free within the airport to connect the different terminals.
RER C: Paris Gare d'Austerlitz take RER C2 direction Massy-Palaiseau to Pont de Rungis station and then take the bus Paris-Orly n°183 (RATP).
RER C and bus 183 to Orly - cheapest way
The RER C and the bus n° 183 between Pont de Rungis and Orly are the cheapest way : From Paris, take the RER C2 and get off at the stop "Pont de Rungis" (direction Massy-Palaiseau - C2). Then take the bus n°183 towards Paris-Orly 4. From this terminal 4 (Orly) to access the other terminals you have to take the airport's transportation service for Orly 1 and 2, walk 3mn to reach Orly 3)
This is one of the cheapest routes between Orly 4 and Paris. Allow at least 45 minutes. Pass navigo accepted, Ticket T+, etc
Open from 5am to 12:30pm - Level 0, Gate 47d, Platform 4
Where to take the bus to go directly from Paris to Orly Airport
You have to buy a special ticket for the Orlyval, for the bus 183 a regular bus ticket or the navigo card is fine.

> bus 183 RATP – departure from Porte de Choisy
> Orlybus – departs from the centre of Paris – departure at place Denfert-Rochereau directly to Orly Airport in thirty minutes. Departure every 10 to 20 mins - 3.35 am to 11 pm)
The Tramway line at Orly airport
Take tramway line T7 at the station 'Orly airport' located at -1 level of Orly 4 terminal in the pedestrian gallery car park P3 Green to go between Villejuif-Louis Aragon (terminus metro line 7) and between the bus and tramway interchange at Athis-Mons.
What is the best way to get to Paris from Orly airport ?
What is the best way to go to Le Bourget Exhibition Park for the Paris Air Show ? Paris Orly international airport can help you reach your destination with interactive kiosks at your disposal in Orly terminal West. This interactive system will help you find the best method of transport for you. After entering your destination address, number of people and luggage items, the type of transport you prefer, you will leave with a detailed information sheet about how long your journey will take, times etc… Print your information sheet or store the details in your smart phone using the QR Code. These interactive kiosks are located gate C
What to do while waiting for your plane at the airport?
Inspiring choices and options for all: space devoted to children, space for quality-comfort-time, light-therapy, massage, multimedia kiosks, duty-free shops, prayer rooms offering a quiet retreat for prayer and meditation, restaurants for all budgets in both terminals.
Assistance for people with disabilities is available.
A relaxation space has opened entirely devoted to reading in Hall B in the South terminal. This free service allows passengers to read national and foreign press as well as a wide selection of books.
How to go to the Stade de France from Orly?
You will need to go through Paris from south to north. The fastest way is to use public transportation. Take the Orlyval to Antony then take RER B in direction of CDG Airport and stop at "La Plaine Stade de France" station. Follow the signposts, it will take you about 10min to get to the Stade de France. The journey lasts 1h.
Same travel to get to Paris Nord Villepinte Exhibition Park: take the RER B line and stop at Parc Expo station.
If the RER B is out of service, take the tram or bus to reach the closest subway station in Paris then take RER D in direction of Goussainville – Stade de France. Follow the signposts to get to the stadium.
Hotels near Orly airport
You can book a hotel room around Orly airport within a 4 km radius. Think of going near the terminals which have "hotel-airport" shuttles that can take you for free... or not.