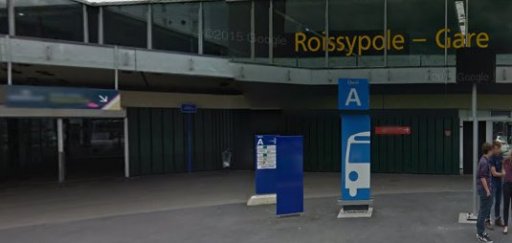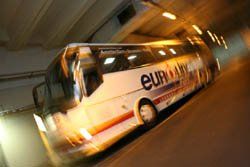 The Roissypôle bus station is located between Terminal 2 and Terminal 3 at the Charles de Gaulle airport near hotels, the RER B station and parking lots.
Bus companies located at the bus station - Roissy CDG Airport
The main French and European bus companies that stop at the RER train station/Roissypole – are Eurolines, Isilines, Ouibus and Flixbus.
The long distance bus companies are mainly situated at the Terminal 3 of the Charles de Gaulle –Roissypole airport. It is easily accessible as the bus station is close to the RER B - Aéroport CDG 1 station, several departmental bus lines (such as Filéo, CIF, Noctilien) and buses that will take you to Paris (RATP, Roissybus). All buses for "Ile de France" are on 5 platforms, with destinations such as Bobigny, Le Bourget, the Villepinte exhibition centers, Paris Nord 2, le Blanc-Mesnil, Tremblay en France, Paris, etc...
From the TGV - Aeroport Charles de Gaulle 2 station, close to Terminal 2, take the free shuttle CDGVAL to get to the bus station in just a few minutes.
Check out our Access page, transport and parking at Roissy CDG.
See the general map for parking lots, terminals and Roissy CDG.
Parking lots close to the Roissypole bus station
Parking P3 is a 10 min drop off service - outdoor parking lot
Parking P3 Resa: on reservation only, reduction rates after 6 days.
Parking PR: medium or long stay parking – Leave your car or motorcycle near the Bus station - outdoor parking lot. Access via CDGVAL
Where to take Ouibus at CDG airport?
OuiBus (French bus lowcost - SNCF) is located at station platform A5 – Roissypole – Terminal 3.
From the RER B, follow the sign « Gare routiere », take exit 1
You can buy your ticket on the Ouibus website or on site - ticket office Roissypole-Keolis – rue de Luxembourg (near Terminal 3).
ISILINES
Isilines is a French bus company that goes from Roissy CDG to Lille or from Paris Gallieni Bagnolet (main bus station). Isiline is located at platform A3 (Terminal T3 Roissy CDG Airport)
EUROLINES
Eurolines proposes trips around France and abroad. Departure at platform A3 (Terminal 3).
Consult the conditions on the Eurolines Web site (WiFi or no wifi, luggage, etc.). Eurolines also proposes international departures from the station Paris Gallieni – subway line 3
FLIXBUS - cars PERIER
During November 2015 a new offer - FLIXBUS - to Normandy has been set up in the bus station at Roissy CDG. This low-cost route allows you to get to le Havre, Rouen or Dieppe.
Paris-le Havre (3 h) / Paris-Dieppe (2 h)
How to go to Park Asterix from the Airport Paris Roissy
To go to Park Asterix from Airport Roissy CDG you can take a direct and paid shuttle which runs during the opening days of the park. You can take it from 9 a.m. to 6:30 p.m., frequency is about every 30 minutes.
At the RER ticket office you can buy your tickets for the shuttle. Information +33 01 48 62 38 33.
Fare-paying Shuttle to go to Eurodisney Paris from airport Roissy CDG
Transfer between Airport Roissy Charles de Gaulle to Disney Park is possible via the VEA shuttle which proposes a paid bus service between the airport and the Disneyland Park hotels. It runs everyday from 9 a.m. to 8:50 p.m. from the airport to Disney and between 6:30 a.m. to 7 p.m. from Disney to Roissy.
Disney Magical Shuttle
Buses "Disney Magical Shuttle" are parked at platform Terminal 2F – (door 8). You can take this bus at the RER B train station – "Aeroport Charles de Gaulle 2 – TGV" and cross through the different zones of terminal 2 which will take you to shuttle departures T2F.
From the bus station, Terminal T1 and T3 take the free shuttle CDGVAL to T2F. Go to the arrivals level and go to door 8.
Hotels near bus station Roissypole – CDG airport
To reserve a hotel situated near the airport zone of Paris CDG, consult the list of hotels in Roissy-Tremblay in France or apartment hotel, city apartments in Roissy, Villepinte.
A shuttle will take you Aeroville shopping mall to allow you to shop or to go to the movie theater.